The history of the washing machine dates back to 1691, when the first English patent under the category of "Washing and Wringing" was filed.
From that point on, many versions of the washing machine were released in Europe and, in 1782, Henry Sidgier released a British patent for a rotating drum washer.  Following this release, in the 1790s, Edward Beetham sold numerous "patent washing mills" in England.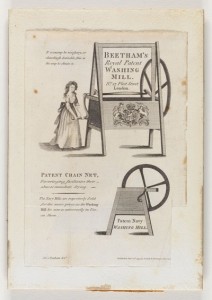 However, the first United States patent for "Clothes Washing" was given to Nathaniel Briggs of New Hampshire in 1797. Unfortunately, due to the Patent Office fire in 1836, a description of the device does not exist.
Inventors and companies alike began filing patents for their washing machine ideas and, in 1908, a man by the name of Lou Upton obtained his first patent for an idea that would really cause the washing machine industry to "whirl."
In 1908, Upton invested his savings in a business venture for manufacturing equipment. When that company failed to thrive, Upton was offered the opportunity to select something of value from the failed venture as a return on his investment. When given this choice, Upton chose the patents on a hand washing machine, which he believed might be electrified.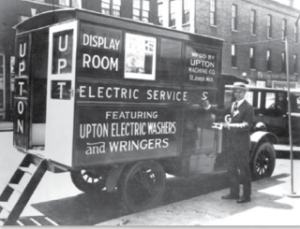 After receiving the patents, Upton returned home to St. Joseph, Michigan, and in 1911, joined his uncle, Emory, and brother, Fred, to invent motor-driven wringer washers. Together, they formed the Upton Machine Company.
By 1916, Sears, Roebuck & Co. began selling Upton-manufactured machines under the "Allen" brand; the deluxe model was being sold for $95. Thirteen years later, Upton merged with the Nineteen Hundred Washer Company of Binghamton, New York, and took the name, Nineteen Hundred Corporation.
As time went on, World War II stifled washer production as factories were modified to provide mechanisms for the P-40 Warhawk aircrafts and military equipment.  By the summer of 1945, the production of washers resumed and began a rapid growth that would take the company from a small manufacturer of washers to a full-scale manufacturer of major home appliances.
In 1949, the company adopted the name that we know today, the Whirlpool Corporation.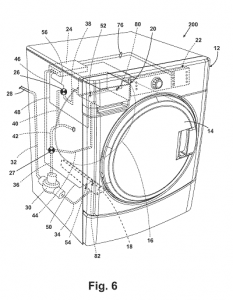 Most recently, the Whirlpool Corporation filed a patent on January 24, 2013 for an apparatus and method for controlling the laundering cycle by sensing wash aid concentration. This patent was filed in order to safeguard Whirlpool's idea for an automatic washing machine that can be operated in accordance with a selected wash cycle. This is done by determining a concentration of a wash aid prior to the dispensing of the wash aid into the machine and selecting an operating parameter of the automatic washing machine in response to the determined concentration.
The Whirlpool Corporation continues to file patents for their technologies that maintain the company's vision, "Every home…Everywhere…With Pride, Passion and Performance." Staying aligned with that vision, the corporation continues to invent innovative products for consumers.
Copyright Davison 2013
Sources:
http://en.wikipedia.org/wiki/Washing_machine
http://www.whirlpoolcorp.com/about/history.aspx
http://en.wikipedia.org/wiki/Whirlpool_Corporation
http://www.appliancemagazine.com/editorial.php?article=158
http://www.whirlpoolcorp.com/100/includes/documents/factsheet.pdf
https://www.google.com/patents/US20130119082?dq=whirlpool+washing+machine+2013&hl=en&sa=X&ei=4H0mUtPrDuessQSxq4HoCQ&ved=0CDsQ6AEwAQ
Pictures:
http://lewiswalpole.wordpress.com/2011/06/02/beethams-royal-patent-washing-mill-no-27-fleet-street-london/
http://offthebench.nbcsports.com/2012/02/13/wait-kate-uptons-great-grandfather-invented-the-washing-machine/
https://patentimages.storage.googleapis.com/US20130119082A1/US20130119082A1-20130516-D00005.png