Sure they showcase some of the world's best athletes, most interesting sporting events and titillating concerts, but stadiums often stand on their own as points of interest; especially the stadiums of the future.
Moats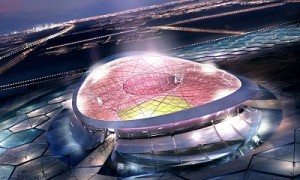 Lusail Iconic Stadium is a proposed football stadium that will be built in Lusail, Qatar, in time for the opening and final games of the 2022 FIFA World Cup. Like the other stadiums planned for the 2022 World Cup, the Lusail Stadium will be cooled using solar power and have a zero carbon footprint. The stadium was designed by the British firm, Foster + Partners. It will have an almost circular base, surrounded by a moat and connected to the car park by six bridges.
Rectangles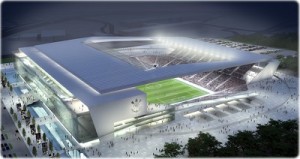 The Arena Corinthians in São Paulo, Brazil, is the future home ground of Sport Club Corinthians Paulista. When this arena is completed, it will be the fifth-largest stadium on the top tier of the Brazilian League and the eleventh-largest in Brazil, with a seating capacity of 48,000. The stadium will host six 2014 FIFA World Cup matches, including the opening match. Due to the request of at least 65,000 seats for the World Cup opening match, temporary seats will be added to the stadium for the tournament.
Morphing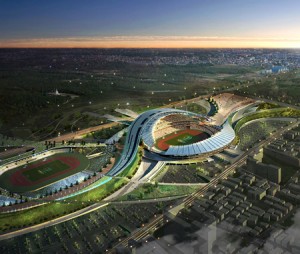 Incheon Asiad Main Stadium is a planned multi-use stadium in Incheon, South Korea. Once completed in 2014, it will be used mostly for athletic meets and will be the main host of the 2014 Asian Games. The stadium has been designed with an initial capacity of 60,000 spectators. After the 2014 Asian Games, capacity will be reduced to 30,000 spectators.
Sustainability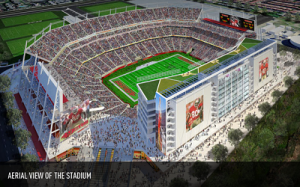 The New Levi's stadium in Santa Clara, California, incorporates photovoltaic panels, a green roof, excellent public transit access, convenient bicycle parking, walking path access from the San Tomas Creek Trail, water-conserving plumbing fixtures, sophisticated building control systems, recycled materials and a long list of other sustainable design concepts.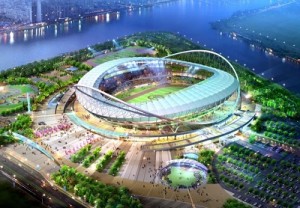 Luxury
Grand Stade de Casablanca is a proposed title of the planned football stadium to be built in Casablanca, Morocco. Once completed in 2014, it will be used mostly for football matches and will serve as the home of Raja Casablanca, Wydad Casablanca and Moroccan National Football Team. The stadium was designed with a capacity of 80,000 spectators, making it one of the highest capacity stadiums in Africa. Once completed, it will replace Stade Mohamed V.
Copyright Davison 2013
Images:
http://cityscapes.ma/vb/showthread.php/8267-Grand-Stade-de-Casablanca
http://www.ninersnation.com/2013/5/8/4312282/49ers-stadium-naming-rights-levis
http://www.saopaulo-sp.net/arena-corinthians.htm
http://www.skyscrapercity.com/showthread.php?t=1230235&page=2
https://www.tuvie.com/incheon-main-stadium-for-2014-asian-games/
Sources:
http://en.wikipedia.org/wiki/Arena_Corinthians
http://newsantaclarastadium.com/about#/features