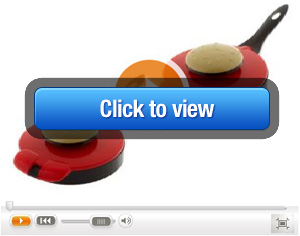 The Fill N' Grill made its debut on QVC and it was a huge success!
Fitness guru, Chris Freytag, presented the product on the popular segment, "In the Kitchen with David." During the show, Chris showcased how to make traditional burgers stuffed with an array of delicious fillings including cheese, bacon and pepperoni. She also demonstrated how the Fill N' Grill can make healthier options, such as turkey burgers stuffed with caramelized onions and feta cheese.
The Fill N' Grill stuffed burger maker is a quick and easy way to fill a burger with your favorite ingredients. To use, simply put a meat patty in the bottom tray, press down with the meat-shaper tool and stuff your favorite ingredients in the center. Once the fillings are set, place a second patty on top, close the lid and press the "burger button" three times to seal the edges. Then, pull out the handled tray – which also serves as a spatula —  and your burger is ready for the grill!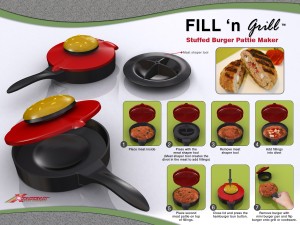 We are ecstatic to report that the Fill N' Grill sold out of 3,000 units in just three minutes!  There was also a large number of QVC customers who signed up for the product's waiting list. The host said it all when she gushed, "These are so cool. You better bring us more next time, because I want some!"
Take a look at the video above and try to keep your mouth from watering!
This was a corporate project that Davison developed and licensed for its own benefit.