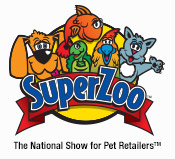 It's hard to believe, but the 2015 SuperZoo is right around the corner!
In case you didn't know, SuperZoo is the National Show for Pet Retailers and will be held from Tuesday, July 21 through Thursday, July 23 at the Mandalay Bay Convention Center in Las Vegas, Nevada.
Forget about the saying, "What happens in Vegas…stays in Vegas," because we are going to fetch all of the exciting SuperZoo news and throw it right back to you!
As we speak, our friends over at Hugs Pet Products, who've licensed several of our innovative pet products, are getting ready for an exciting couple of days at the major pet industry trade show.
As a leader in products that keep pets cool, Hugs will obviously be bringing along their most popular cooling products that we designed for them. These include the Arctic Freeze and Hydro lines!
But, that's not all! Hugs will also be showcasing their new copper healing line and they'll be revealing a variety of other new products, too!
Needless to say, we can't wait to share our feedback with you! Stay tuned for updates!
Copyright Davison, 2015
Image:
While Davison regularly attends trade shows, it does not promise that any particular client product will be, or is likely to be, presented or discussed at a trade show.