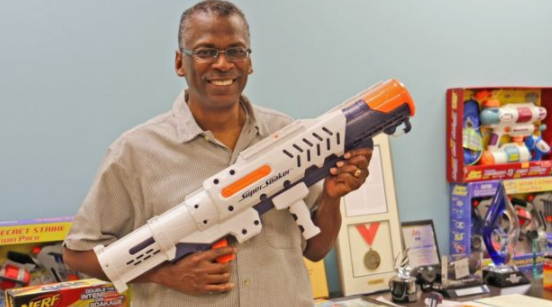 Growing up, we all had ideas for inventions that we thought could change the world. As a child, Lonnie Johnson was told that he shouldn't aspire to be anything more than a technician. But that didn't stop the young inventor from dreaming big.
Given the nickname "The Professor," Johnson was constantly tinkering with projects in his free time. At the age of 13, he built a go-kart out of a lawnmower and some scrap metal. He even tried to create rocket fuel in his kitchen, nearly burning his parents' house down in the process.
Johnson always dreamed of being a famous inventor, and he certainly wasn't going to let a few negative comments stop him from chasing his dream. While in high school he participated in his school's science fair. Johnson created compressed air robot called "the Linex" which won first prize.
To everyone's surprise, Johnson achieved a full scholarship to Tuskegee University where he pursued a master's degree in nuclear engineering.
It wasn't until 1979 that Johnson had landed a job working for NASA's Jet Prolusion Laboratory. Despite his busy career, Johnson continued to pursue his inventions in his spare time. His most prized project was an environmentally friendly heat pump that would use water instead of Freon.
After completing his initial prototype one night in 1982, Johnson decided to test it out in his bathroom. Aiming the pump into the bathtub, he pulled the lever and blasted a powerful water stream straight into the tub. Johnson thought to himself "Geez, if I were to develop a new type of water gun, that was a performance water gun, it could really do well."
Already working a full-time job, Johnson had no time to pursue his new idea himself and he began reaching out to manufacturers for help. To his surprise, some companies weren't interested and the ones that were, asked $200,000 from him to build the first thousand water guns.
Not having that type of money at the time, Johnson was devastated. Still not quite yet ready to give up, he headed to a Toy Fair in New York with a suitcase full of prototypes where he met the team at Larami.
Larami, a popular toy manufacturer at the time, was sold on this new type of water gun. From there Johnson went on to close a deal with Hasbro as well. Since then, The Super Soaker has sold millions.
It wasn't until 1989 that Johnson finally made money off of his idea. Seven years of tinkering, tireless sales pitches, and even quitting his job to pursue his idea had finally paid off. By 1991 the Super Soaker had topped $200 million in sales and ranked among the world's Top 20 Selling Best Toys.
Overcoming all odds, Johnsons drive as an inventor had led way to a monumental success.