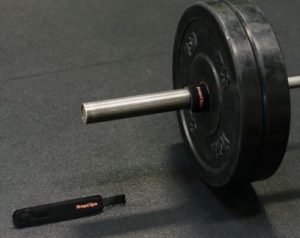 Sitting in an entrepreneurship class, the young mind of Martin Dimitrov was full of bright ideas for an upcoming project. The project, to come up with a solution to an everyday problem, had left Dimitrov excited, yet not sure about which problem he wanted to tackle.
That all changed when it was time to hit the gym. While working out with his friend, Ryan Caulfield, the two noticed that the spring weight-collars (a device that holds weights securely on bench press bar) were cumbersome to operate didn't quite work right.
Dimitrov and Caulfield took this problem back to class where they began tinkering with new designs that would help solve their problem. Inspired by slap bracelets, a popular accessory at the time, the two developed a quick and easy design that served a better solution to their problem.
In May 2015, long after the project had been completed, Dimitrov and Caulfield continued to pursue their idea which led to a first-place award in a local invention competition. Having caught the eye of the community, a local resident and co-founder of a program for young entrepreneurs, gave the boys $2,400 to fund further development of their idea.
After a few more designs and a successful Kickstarter campaign which raised $23,000, the young inventors, still in high school, teamed up with a few other students who were passionate about the product.
Some time passes and the group is able to secure a patent and start producing existing orders that were raised by their Kickstarter campaign. The team spent countless hours dealing with the usual research and development any new entrepreneur faces including working with Chinese manufacturers to help perfect the production of their product, SnapClips.
Today, SnapClips are made using military grade Kevlar, and their patented technology helps make swapping weights on a bench press bar quick and easy. SnapClips stay locked in place while lifting, and will not come loose, even if the bar is being repeatedly dropped. Dimitrov, now 19 years old, is on the road to becoming a successful inventor and entrepreneur.