You probably already know that our new products and packaging solutions have sold in over 1,200 stores and online retailers. Well, today, we're here to tell you that you can add one more store to that list!
We've got new proof of some of our Davison-designed pet products on the shelves of Shopko, a Midwest retailer with over 330 locations.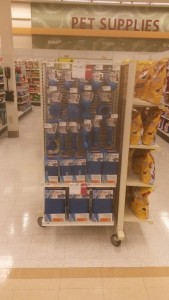 The "cooling end cap," includes products that were designed at Inventionland like the Arctic Freeze Ball, Bone, Fetch and Snowflake, along with various sizes of the Chilly Mat, just went in to Shopko stores last week.
According to the Shopko website, their stores service people everywhere from small communities to mid-size cities. They carry quality name-brand merchandise, great values, pharmacy and optical services.
And, of course, now they carry Davison-designed pet products!
Like we always say, the proof is in the stores and we are always excited and proud to see our products on store shelves and online!
Copyright Davison 2014