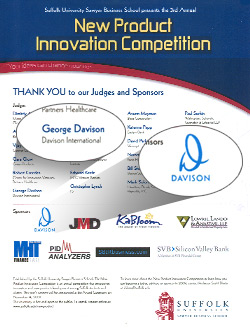 Davison was pleased to provide a $2,000 gift to sponsor the Sawyer Business School 2008 New Product Innovation Competition (NPIC) at Suffolk University.
The competition makes it possible for undergraduate, graduate, and alumni students from the College of Arts and Sciences, Sawyer Business School and the Law School to "innovate and participate" in an entrepreneurial exercise that may change their lives.
Davison's contribution and those of others show a deep commitment to support higher education and entrepreneurship. Mr. Davison also has committed to serving on the board as a judge and to provide ongoing mentorship to Suffolk's students.
We look forward to a continued partnership with Suffolk University and to the outcomes of NPIC '08 and news of future innovations!