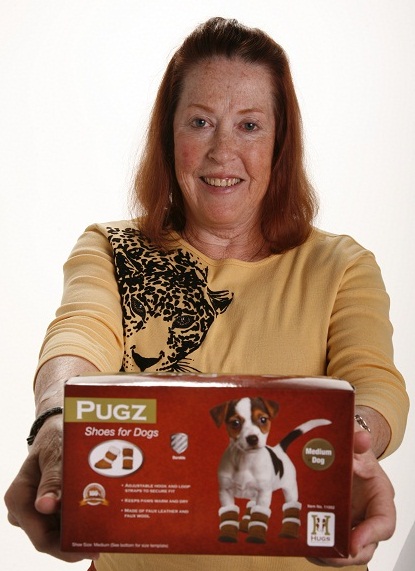 A couple months ago, we gave you part one of how our client, Kay, came up with the idea for her adorably-designed Pugz Shoes for Dogs – to protect her two Shelties, Rough Spot and Autumn Angel, from cold weather and salt-soaked paws. (If you missed the article, check it out here!)
Since that time, Kay's doggie shoes have been licensed by Hugs Pet Products and they're currently selling in major retailer Bed Bath & Beyond.
Now, the inventor, and grandma, has taken a new step in her invention process.  A few weeks ago, Kay and her granddaughter, Breanna, visited the place where it all got started – Inventionland.  While they were at the world's most creative workplace, they were also greeted with some more good news – delivered by a furry four-legged friend!
"A little doggie had it for me… and it was wearing my product," said Kay.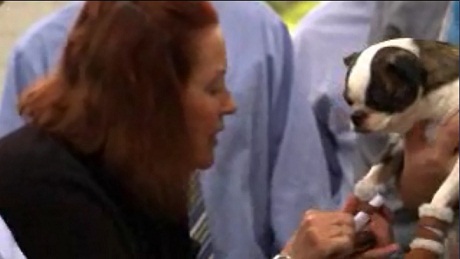 That little doggie had a royalty check for Kay; she said she almost couldn't believe what was happening.
"[It was] a huge surprise that I was not expecting at all," said Kay.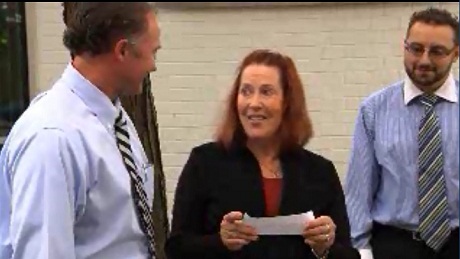 Kay and Breanna also spent some time with Mr. Davison, who Kay said obviously shared in her excitement.
"I think [Mr. Davison] gets as excited as the client," she said.
In fact, Kay felt so at home in Inventionland, she said she felt like she had a new, extended family.
"I have a very wonderful feeling about everyone.  It was a very comfortable experience.  Anyone who gets to do this is fortunate," said Kay.
And, for others who may be considering pursuing their own ideas, Kay said a positive attitude is key.
"I would advise [future inventors] to stay positive and do some research… Don't get discouraged, it can happen," said Kay.  "I'm a firm believer… nothing ventured, nothing gained."
A typical project does not get a royalty agreement, sell in stores or generate a profit.