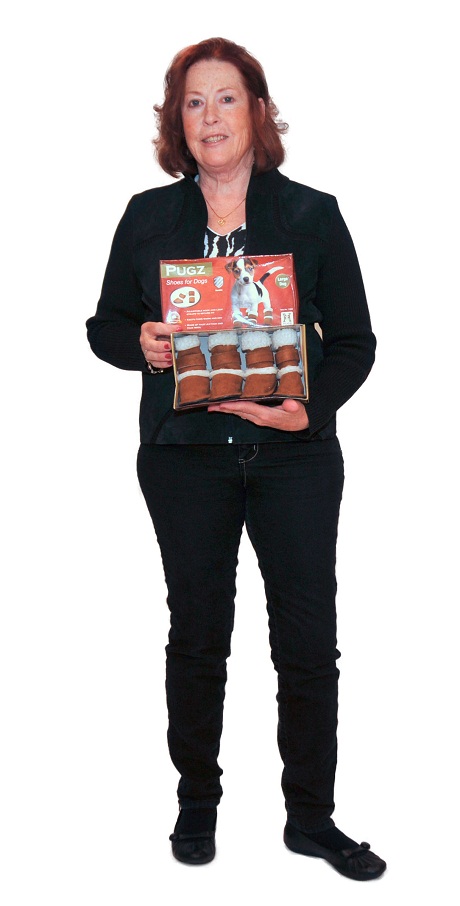 For our client, Kay, and her two Shelties, Autumn Angel and Rough Spot, taking a December trot in the snow, with her neighbor, Janice, and her golden retriever, was nothing close to walking in a winter wonderland. Instead, their faithful friends would wind up with either cold, wet snowy paws or even salt-soaked paws, from treated roads and sidewalks.
"I needed something that would stay on and protect their paws… [Something to] keep their paws from getting dry and cracked," Kay said.
For Kay, the logical solution was boots for her pups. After all, they worked for her. So, she searched stores high and low to find the perfect pair, but there was a problem.
"Nothing really stayed on. Their booties would fall off in snow banks," said Kay.
Kay, Autumn Angel and Rough Spot needed a better solution.
"I looked all over and didn't see hardly anything out there. Everything I did try, never stayed on," said Kay.
Although she knew what the problem was, because the "Jill-of-all-trades" typically was busy working, she didn't have time to pursue a solution right away.
According to Kay, she worked for about ten years in banking, but has also held positions in retail, housekeeping and on the line at General Motors!
"I've even done a little pet-sitting. I don't feel like it's just a job," she said.
Perhaps the labor of love  inspired her. Around 2006, she thought of a more-improved boot, one that wouldn't just slip off. While she kept the idea close to her, she also told her friend, Janice, and some of her family.
"[Janice] was so excited about it!  She agreed there should be something… [and], my grandchildren thought it was cool," said Kay.
Her son, Kurt, must have thought it was a pretty cool idea, too. He began searching online and that's when they found Davison. Without seeking any other invention companies, Kay decided to pursue her idea.
"I was hopeful about it. I was looking forward to how it would turn out," she said.
She was very happy with the stylish, finished product that Davison designed, but the boots really "kicked" off when she received an unexpected phone call.
"Like [Davison's Licensing Department] motto, 'We try longer,' they did! I was quite surprised they were calling. It looked like the ball was rolling on my idea," Kay said.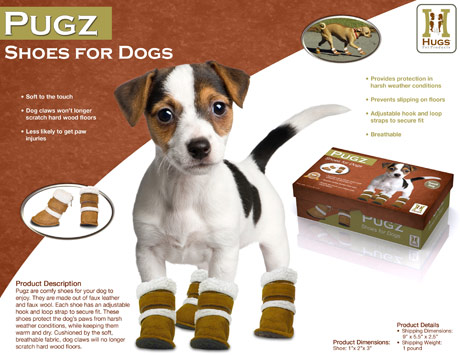 Those boots were made for walking  and that's just what they did! Hugs Pet Products licensed and now sells Kay's idea as Pugz, faux leather and faux wool shoes that provide pets with comfort and keep paws dry in any weather conditions.
Kay said she was very happy with the product that resulted from pursuing her idea with Davison, although she seemed a bit reluctant to accept her new title, "inventor."
"Yes, I guess I do! I'm pretty proud of it!" she said.
Her fearless attitude, anything but reluctant, is a tell-tale sign of that title.
"I figured, just go for it. Nothing ventured, nothing gained!" she said.
Congratulations to Kay, Hugs Pet Products and everyone who worked on making this exciting venture such an awesome gain!
Although we can't speak for Autumn Angel and Rough Spot, we're sure they give Pugz four paws up!
The client has not realized a net profit on this product. A typical project does not get a royalty agreement, sell in stores or generate a profit.