At Davison, we celebrate the process of inventing. It's really that simple.
This is precisely why we present all of our Davison products in our problem-better way format. Inventors see a way to do something better and they invest their time, money and patience into bringing their ideas to the world.
Below are 4 simple, but amazingly practical solutions for everyday problems:
The bathroom with all its running water,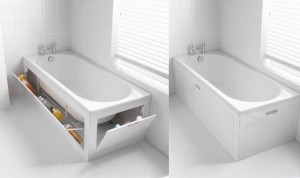 personal hygiene accessories and hair collecting pipes can get pretty disgusting. Add to that filth, the clutter created by all the tools you use to rectify these problems, and you have quite a mess on your hands. Not anymore. GW International created this bathtub storage panel made by and launched in 2010 at KBB Birmingham. Now you can store all your cleansers, plunger and sprays completely out of sight.
Painting walls is enough of a painstaking process without having to find the perfect spot for your paint-soaked paintbrush.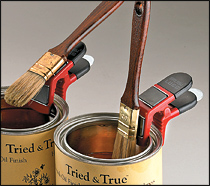 You can lean it against the bucket, set it on a dirty tarp or you could try this magnetic paintbrush holder that keeps your dripping brush perfectly positioned over your paint bucket. According to the Lee Valley website, the brush is, "Designed to clip to the rim of any size of can, it has integral magnets to securely hold the brush ferrule, allowing paint, etc., to flow from the bristles back into the can, making brush clean-up much easier. One magnet keeps the brush above the liquid in a full can, and the other grips it vertically for when the liquid level is lower."
You want a fruit salad, but the process of cutting all that delicious fruit is time consuming.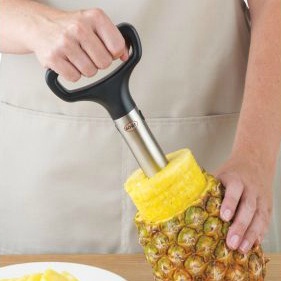 Not anymore. "Extract more fruit with less effort. This Rosle stainless-steel pineapple corer operates like a corkscrew with a circular serrated-edge shaft to pierce through fruit, cutting closely to the rind to separate flesh from the core. The outer serrated-blade edge slices perfect, ready-to-serve rings at the same time. With the wide base and ergonomic handle, the pineapple cutter provides the leverage for effortless operation and quick, precise performance."
"This kitchen needs more storage!" You won't be saying that anymore with Blum's Space Corner. Space Corner takes advantage of the poorly used corners of a kitchen by transforming small, cluttered kitchen drawers into gigantic space-saving corner cabinets. Watch the hypnotic video below.
Stay tuned for more simple, life-changing inventions on the Davison blog. As always, thank you for reading.