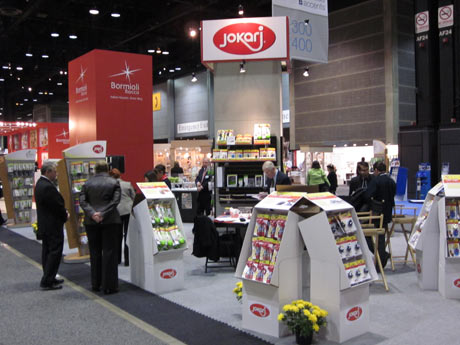 "The numbers are almost overwhelming," said Davison's Vice President of Licensing, when counting up all the products we designed at the 2011 International Home + Housewares Show. There were more than 60 finished products and over 40 prototypes with the Davison "D" on display.
"The show was very busy and extremely productive," said the executive. "It was better this year because we had more of our products on display and more client products selling in the stores."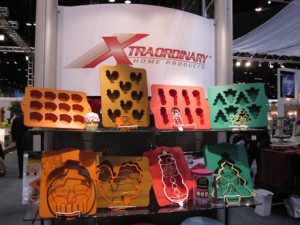 As a result of great feedback at the show, Chicago Metallic has picked up the line of Davison-designed silicone bakeware, and the firm is moving into the production of more holiday-themed spin-offs! The pans, which should be on store shelves in time for the 2011 holiday season, came out of the collaboration between Davison and Xtraordinary Home Products; both XHP and Chicago Metallic are divisions of Focus Products Group.
"The evolution of the Silicone Dessert Pans continues to grow positively with both the new Chicago Metallic versions and new holiday silicone pans, all of which are some of the most appealing new bakeware items in the company," said the president of XHP.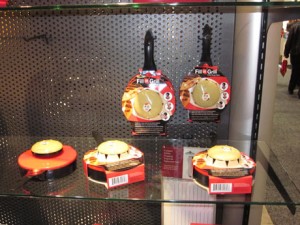 "Across the board, all products that we developed with Davison were received by the retailers extremely well," he added. "The Bread-It Ultimate Breading Station was a huge success, as was the Fill 'N Grill. We expect very strong placement on both products."
Other Davison designs for XHP that were well-received include the Swingers by Swing Away line of folding kitchen utensils — 19 utensils that open and close via a hidden locking mechanism, taking up less storage space. The Swingers are being tested in select Bed, Bath & Beyond stores and likely will appear on a major shopping network this year. It will be the 7th Davison-designed product / line to appear in the past two years!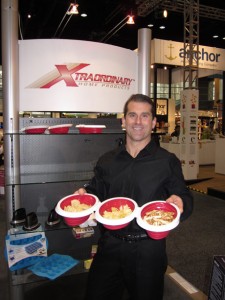 "Davison has done a great job of collaborating and providing XHP with innovative new products it needs to attract the buyers' attention," said the Davison VP.
XHP's president agreed: "Overall, the (IHA) show has positioned us in a very strong position to further grow our overall product positioning at retail with Davison / XHP created programs."
CEO George Davison said the Davison / XHP collaboration is "a testament of how great things come from teamwork and strong partnerships."
We can't wait to see what new innovations will be next to come from our great collaboration!