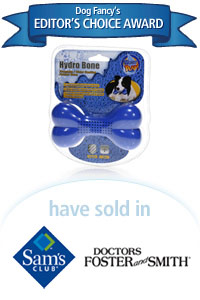 The long-awaited Hydro Bone has hit the market, landing in Doctors Foster and Smith, the largest pet supply cataloger in the nation, which started out as a small group of dedicated veterinarians. The Hydro Bone originated several years ago on a Davison design team as they were brainstorming ideas for new pet toys for another company, which did not pursue it. The hydrating chew toy, which keeps dogs and puppies cool and content in hot weather, was brought back out recently by the corporate team in its work for Hugs Pet Products.
"We married the product up with them and they kind of ran with it," said the corporate design manager.
The corporate team did the finishing touches and resolved issues related to materials and created the packaging. The product maintained its original design.
"It's kind of cool that it's actually a product we did years ago that we were able to bring back and revive," said the original design manager on the project. "It's pretty much the same concept we came up with a few years back."
The VP of Licensing is hopeful we also will see the product in other stores in the near future. "It's great to see it's up on Dr. Foster's and selling."
If this innovative item follows in the path of other products we've developed for Hugs, it is sure to be a success. It certainly couldn't have hit the market at a better time of year, when dog owners are searching for ways to keep their canine companions cool!
Congratulations to all who worked on this great new product!