With the recent success of the Miracle Loaf stuffed meatloaf pan on QVC, news of Davison-designed products making a big splash on the world's leading video and ecommerce retailer seems like everyday news here. So, when we announced last week that the Mrs. Fields Half N Half Cupcake Pan also was slated to appear on QVC, it may not have come as a huge surprise.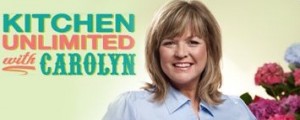 Today, we're excited to share that the Half N Half Cake Pan, which was licensed by Love Cooking Company, not only appeared on QVC's "Kitchen Unlimited with Carolyn" last Wednesday, but it has also received rave reviews from viewers who purchased the innovative bakeware!
If you missed the show, you can see long-time QVC kitchen product specialist Marie Louise Ludwig showcasing the Half N Half Cupcake Pan here:
Ludwig introduces the Half N Half Cupcake Pan as a "fun twist on an old favorite," showing off adorable Easter chick cupcakes, pink and blue cupcakes that are perfect for a baby's gender-reveal party and a scrumptious peanut butter cookie and brownie combination cupcake.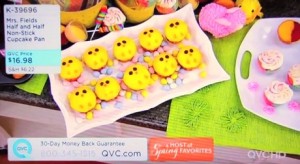 Obviously captivated by true inventor spirit, Ludwig says, "The sky's the limit as far as creativity is concerned!"
We couldn't agree more and neither could a couple customers, who instantly ranked the Half N Half Cupcake Pan with five out of five stars.
One user, whose review calls the pan "genius and time saving," also said, "I got excited when I saw this so I told myself I gotta have it. It'll make my baking fun, faster and easier. Genius!"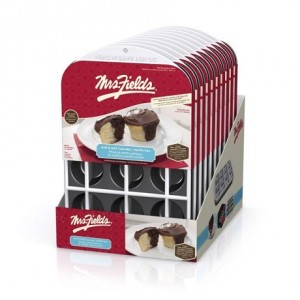 Another user, who called the pan "cupcake fun for everyone," said "It takes a little patience to make things turn out perfectly, but I have given this set as a gift on a few occasions, and my friends and family love it as much as I do. Happy baking…"
Both reviewers also said that the Half N Half Cupcake Pan is the perfect gift for families, so if you haven't picked your up yet, grab one for yourself and a family member or friend!
Congratulations to our client, Richard, and everyone who has worked on making the Half N Half Cupcake Pan such a success!
Copyright Davison 2014