Only a month after receiving the factory samples, the new Swingers by Swing Away line is already on store shelves! The innovative line of folding utensils can be found at Keystone Housewares, as well as in a test at select Bed Bath & Beyond stores.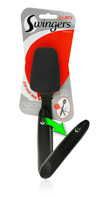 "This is awesome news," said the VP of Licensing. "It's great to see they're testing in Bed Bath & Beyond."
The line, which offers the convenience of full-size utensils that take up less storage space, is comprised of 15 folding utensils: Ladle, Slotted Turner, Measuring Spoon Set, Large Slotted Turner, Solid Spoon, Turner, Pasta Spoon, Whisk, Skimmer, Measuring Cup Set, Silicone Spatula, Slotted Spoon, Pastry Brush, Ice Cream Scoop, Spoonula. All the tools, except for the whisk and ice cream scoop, can be used with handles folded or extended. When extended they lock securely in place, and then unlock with the push of a button.

"I'm glad to see them go to market and I can't wait to buy them," said the Corporate Creative Coach, who also admitted he wanted them for his own kitchen.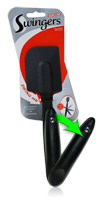 Several of the products are now on our website: Silicone Spatula, Spoonula, Slotted Spoon and Pasta Spoon. Others will be added soon, so check back – There is sure to be more great news about the Swingers in the near future!