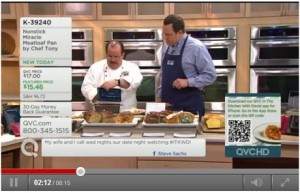 You may recall that the Miracle Meatloaf Pan has been featured on QVC twice already this year. Culinary Professional Chef Tony Notaro first featured the Miracle Meatloaf Pan on QVC's "In the Kitchen with David" in January and the pan sold out in less than 10 minutes. The Davison-designed stuffed meatloaf pan was back on QVC in June and it sold over 7,000 units!
We decided to check back in on the pan to see what other users have had to say about it.
Well, now the pan is listed as one of QVC's "Most Wished For" items and it carries a nearly perfect five-star review rating!
There are too many awesome reviews to list them all, but we've picked out a few of the latest and greatest things that people are saying about the Miracle Meatloaf Pan that we designed:
WOW! Can finally make meat loaf.
Overall Rating

"For the first time in years, I can make a perfect meat loaf that doesn't fall apart. Thanks Tony, this is the greatest pan ever, easy to clean and make a perfect loaf and the fillings are great. Love this Pan!!!!!"
Easy to use
Overall Rating

"Loved the idea of keeping the grease away from the meatloaf. Tried the stuffed mashed potato stuffing. It was awesome. Gave a friend a taste and he loves meatloaf. He took the info to get one."
WONDERFUL
Overall Rating

"Great, love the idea and recipes. Very much worth buying."
Not only did Miracle Meatloaf Pan customers love using their new pan, they also loved THE IDEA of the stuffed-meatloaf maker. Obviously, we're partial to the ideas around here, so we took special notice of those compliments, too!
Great Idea
Overall Rating

"Used the pan and it was great. Really made stuffing easy and also liked the drip feature."
Great Product Idea
Overall Rating

"Used once and worked as described in presentation to a great degree; the indention plate is a little shallow but that may be my preference for deeper impression for fillings."
Copyright Davison 2014