Another innovative Davison design that the entire team has been working to get onto store shelves is now at one of the nation's major retail pharmacies.
The 6-in-1 Manicure Multitool is in stores now!
The awesome new product was designed by our client, Cathalene, and was licensed by Health Enterprises, under their "Portables, by Essence of Beauty" brand.
The 6-in-1 Manicure Multitool has a nail file, two-sided nail buffer, cuticle pusher, two-sided cleaning stick, nail brush and nail clippers. By combining six tools into one convenient, compact tool, it is perfect for enhancing nails anytime, anywhere! The innovative product also has a silicone, non-slip grip that is gentle on the fingers.
"I'm very glad it has finally found a home!" said Davison's Corporate Creative Coach. "I think everyone on my team has touched it in one way or another."
When we say our Licensing Team has been "Trying Longer," we aren't kidding. We first told you about the possibility of the product appearing in stores last August!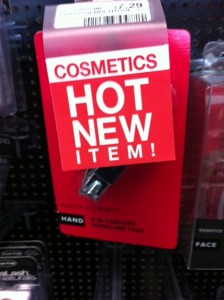 Our Vice President of Licensing said this is a very big moment, not only for Davison, but also for our client.
"Congratulations to our client, Cathalene," said the VP. "Her dream is about to come true!"
Be sure to check store shelves for the 6-in-1 Manicure Multitool! Congratulations, Cathalene, and everyone who worked on this awesome new product!
Our client, Cathalene, has not made a net profit on this product.
A typical project does not get a royalty agreement, sell in stores or generate a profit.