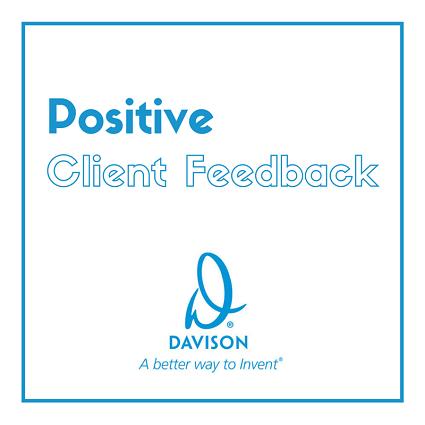 When we receive positive feedback from happy clients, we can't help but share.
It's for this reason that in today's blog, we're sharing with you some responses from clients who have received and reviewed their Pre-Development Portfolios!
Once we receive this feedback, we put it to good use to refine our inventing method and help idea people everywhere potentially see their dreams become a reality.
Without further ado, here are five responses from Davison clients:
"Can I say perfect?" ­– Ezra G.
"The efficiency of the Portfolio is greatly appreciated. Great work." ­– Richard A.
"It was very informational, just what I needed to have in order to understand everything." – Angie S.
"I love the portfolio. It has [given] me a new [insight] on my product." – Phillip B.
"I am impressed with the information provided and the way it was provided." – Carolyn E.
If you're ready to make your inventing dream a reality, submit your invention idea today!
Copyright Davison, 2016
The typical client project is not licensed, sold in stores or profitable.