While you've been out preparing for all the hustle and bustle of the holidays, you may have missed some awesome media exposure that we've received!
Recently, Mr. Davison was the guest of honor on The Pittsburgh Technology Council's Tech Vibe Radio.  In case you missed the informative broadcast, it's now available online!
In the 12-minute segment, Tech Vibe Radio's Jonathan Kersting interviewed Mr. Davison and he clued listeners in on how a new invention can go from an idea to a product on store shelves.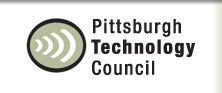 To listen in, click the above image and select "Davison International" or follow this link!
After that awesome segment, we were featured on www.allbusiness.com for past participation in the KISS 96.1 FM Stuff-A-Bus donation event, which benefits the Toys for Tots program.
Read the entire article by clicking the image below or by following this link!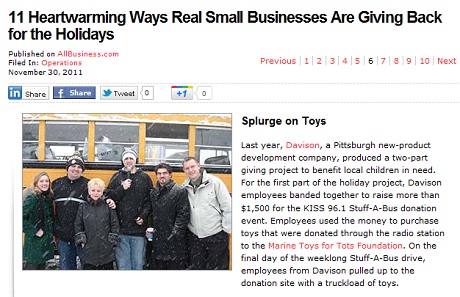 Finally, on December 3rd, our creative-design facility, Inventionland, was featured on website design expert Mishil Patel's online blog.  In the article, "The Creative Office of Inventionland," Patel comments on how our creative workspace "provides one of the most intuitive work environments ever."
Read the entire blog by clicking the image below or by following this link!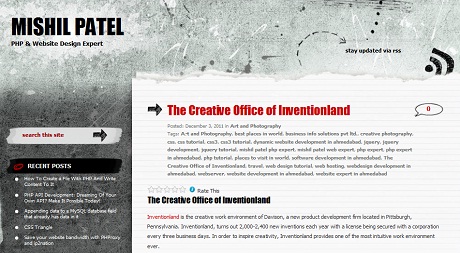 Keep your eyes peeled and your ears open for more awesome examples of Davison in the media and we'll be sure to update you of any upcoming press!