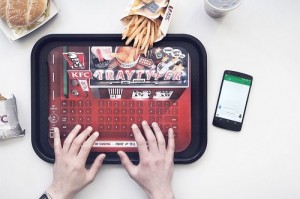 Perhaps you've been in a situation like this before, you've just sat down to a meal at KFC and as soon as you pick up your first piece of fried chicken, your phone lights up with a notification of some sort. At this point, your hands are covered in grease and you're faced with the decision to keep eating or attempt to use your phone without getting too much grease on the screen.
Well, the fast food chain noticed this problem and, in turn, wanted to find a solution. So, KFC came up with Tray Typers, which were Bluetooth keyboards that were installed into food trays. The trays would sync with the customers' smartphones and tablets, so KFC lovers could enjoy their meal without missing a text.
This advertising campaign only lasted a week in its locations in Germany; and, during that week, each order came with the tray for those patrons who decided to dine-in.
The paper-thin, wireless Tray Typer was resistant to liquids and grease, so if a person accidentally spilled their soda or dropped a piece of chicken on their tray, it didn't pose any problems. In fact, the keyboards were disposable and could be reused and recharged via USB.
As intriguing as the Tray Typers were, we won't be seeing them in the United States.
Sadly enough, KFC lovers in America will just have to find a Better Way to eat KFC and use their smartphone on their own! But, as The Verge described it, this invention was "finger clickin' good!"
Copyright Davison, 2015
Sources:
http://mashable.com/2015/05/20/kfc-tray-typer-bluetooth-keyboard/
http://www.theverge.com/2015/5/19/8624295/kfc-tray-typer-wireless-bluetooth-keyboard
Media:
https://cdn3.vox-cdn.com/thumbor/quckpYH7wY9MZoHkeMgwrrZUfm8=/1020×0/cdn0.vox-cdn.com/uploads/chorus_asset/file/3709142/KFC_TRAYTYPER_1.0.jpg