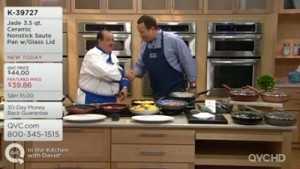 Were you "In the Kitchen with David" on Sunday, March 30? QVC's popular kitchen show featured the Jade No-Burn Pan that was designed at Inventionland for the Love Cooking Company and the revolutionary new cooking product did not disappoint!
QVC host David Venable, along with Culinary Professional and Jade No-Burn Pan spokesman Chef Tony Notaro showcased the many capabilities of the seven-in-one pan.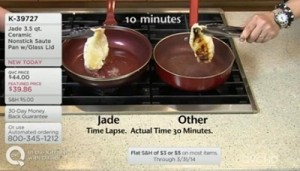 At one point in the piece, Chef Tony referred to the pan's kitchen capabilities saying, "It's absolutely mind-blowing!"
To prove just how much the Jade No-Burn Pan can do, the dynamic kitchen duo demonstrated several dishes, including everything from grilled chicken and sausage to sauteed rice and macaroni and cheese.
After only seven minutes on the air, Venable let viewers know that 1,000 pans had already been purchased and that the phone lines continued to ring off the hook!
Speaking of phones ringing, Chef Tony gave an awesome everyday example of just why the Jade No-Burn Pan can benefit anyone who cooks with it.
"If you get a phone call or the kids call you and you get distracted, you don't have to worry about the food burning," said Chef Tony.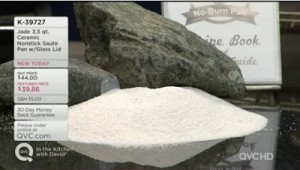 Sound unbelievable? Chef Tony thought so, too… until he cooked with the pan.
"When they first told me about this pan… I didn't believe it, till I cooked with it. Now, I'm sold," said Chef Tony.
While the secret is not in the sauce, it  IS inside of the pan! Part of Sunday's demonstration included showing off the revolutionary jade technology that allows the pan to heat up to medium heat and maintain that temperature, making it impossible to burn your food.
"It is an amazing little piece of technology…," said Venable. "It regulates the perfect medium heat."
The Jade No-Burn Pan is now available in black, platinum, copper and red varieties. Venable suggested that there may be even more options for the pan in the future.
"This is just the first of more to come, if you guys tell us you like it," said Venable.
That sounds "D-lightful!" Stay tuned for more news and reviews of Love Cooking Company's Jade No-Burn Pan that we designed at Inventionland!
For now, check out the Jade No-Burn Pan on QVC!
Copyright Davison 2014
This product was developed at Inventionland for a corporate client.