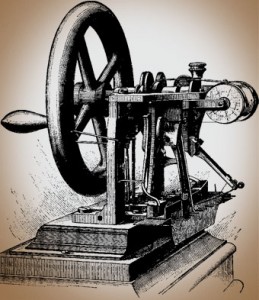 It's September 10 and you know what that means, it's Sew Be It Day!
Did you know that on this day in 1846, Elias Howe was awarded the first American patent on a sewing machine?
Howe realized that there had to be a Better Way to sew clothes rather than stitch by stitch. So, he decided to sew together his own invention idea – the sewing machine!
Just like Howe,  one of our clients found that having to stop in the midst of sewing or quilting just to wind the bobbin was extremely irritating, not to mention time consuming. So rather than continuing to unthread the sewing machine or add another spool of thread, this client found a Better Way to thread a bobbin.
This invention is now known as the Better Bobbin, which helps fill the bobbin directly from the sewing machine!
Not only does this invention help fill bobbins with various sizes of thread spools, the unit also allows for easy thread guiding and a built-in thread cutter!
So today, say "sew be it," get out your sewing machine or Better Bobbin and use your imagination to finally create that scarf you've been meaning to make!
Copyright Davison, 2015
Image:
https://www.asme.org/getmedia/2b47b0ce-7d42-439f-822e-4f8b86291f10/Elias_Howe-Technology_and_Society-01.jpg.aspx?width=340
A typical project does not get a royalty agreement, sell in stores or generate a profit.