Did you know that last week's primetime QVC airing of the Miracle Meatloaf Pan sold over 7,000 products? Additionally, have you heard what just some of those happy customers are saying about the innovative bakeware product that we designed right here at Davison?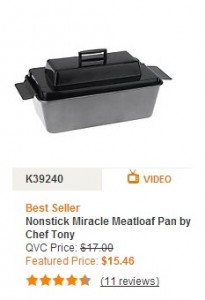 Here are a few of the latest snippets of feedback that QVC buyers are saying…
"Very simple to use and also fun. It's a whole new way to make a meatloaf less boring! I love it! It is simple to use, but you need to watch the video if you don't see it being offered on QVC. The clean-up is great."

"Didn't realize how big a pan this is. Great concept. What did I do before I bought this? My go-to loaf pan now."
"Can't say enough good things about this pan. Love it. Chef Tony has some of the very best products that work so well for me. I use this item a lot. I love the fact that your pan has a design that the fat goes below, away from your meat. So healthy and I have stuffed my meatloaf with all kinds of things. It is always a winner for our dinner."

For the second time this year, the Miracle Meatloaf Pan received great feedback! That's why it's no wonder that the Miracle Meatloaf Pan is a QVC.com "Best Seller" that has received a nearly-perfect 5-star rating!
Copyright Davison 2014
The inventor of the Miracle Meatloaf Pan has not earned a net profit on this product.  A typical client project is not licensed, sold online or in stores or profitable.  Davison charges fees for its services.