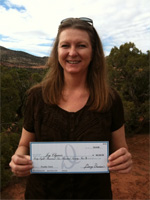 Our client, Joy, whose Party on the Go was a hit on QVC, got a wonderful surprise when Mr. Davison and his team visited her in her Colorado hometown to celebrate her success. Joy's first royalty check was hidden in a Party on the Go platter at a festive picnic held in her honor at Colorado National Monument Park. She cried when she received her royalty check from Mr. Davison, which left Joy totally shocked. "I had no idea it was going to be that much," she said.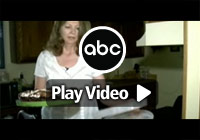 She was featured in her hometown newspaper and on her ABC affiliate, demonstrating her product, the Party on the Go, during a local newscast. She explained how Davison helped turn her dream into a reality, prior to her product airing on the nation's most popular shopping network. The Party on the Go, aka Party Traveler, was a big hit during its debut as a "Today's Special Value" on QVC. The innovative food and dessert travel caddy got a great response and sold in the tens of thousands. When Joy saw her product featured on the biggest shopping network, which broadcasts daily to 90 million homes, she was overwhelmed.
"I was just thrilled," she said, when she saw it on QVC. "It's like a dream!"
"We all celebrate whenever one of our client's products is featured on QVC," said George Davison, CEO. "They have a wonderful way of showing all the product's great features in their demonstration. QVC did a great job and I am thrilled for our client."
Inventor's Story:
We developed the new product for our client, Joy, a self-employed medical transcriptionist. She came up with her idea because she wanted a neat and simple way to transport deviled eggs to get-togethers. Previously, she had taken a dozen deviled eggs to a barbecue in a pie pan covered with plastic. By the time she arrived, however, they were a mess.
Joy knew there had to a better way, but she couldn't find a proper container in the stores, so she decided to invent one. She went online and found Davison, and the design team went to work.
The product was licensed by a company looking for new items to add to its line of functionally unique and innovative housewares. The company liked the idea but wanted the product to be more versatile. Davison designers and the manufacturer collaborated to redesign and perfect the Party on the Go.
The resulting product transports deviled eggs, cupcakes and a variety of other foods neatly and easily. The veggie, pie and cookie trays rotate, turning it into a portable lazy Susan, and all the trays stack neatly inside the unit for compact storage.
"I can see that a lot of people will find a lot of uses for it. The convenience of the carrier is an added bonus," said Joy. "Overall, it's been a very worthwhile experience working with Davison, and I'm very happy with the end result."
A typical project does not get a royalty agreement, sell in stores or generate a profit.