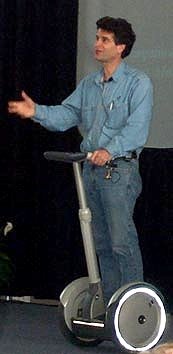 Dean Kamen may not be a household word, like Edison or Ford, but he's an incredibly prolific inventor who holds more than 150 patents and is an inductee of the National Inventors Hall of Fame. Pretty good for a guy that the average man-on-the-street probably never heard of. But, maybe they should know who he is, because Kamen has created some very innovative things: medical devices such as an automated syringe and a new type of insulin pump; and law enforcement tools such as a compressed-air-powered device that launches SWAT team members (or other emergency workers) into the air in order to quickly get to the roofs of buildings. But, it's the Segway— that spiffy human transporter that we see law enforcement use in malls and convention centers—that really caught our eye and makes him an inventor we wanted to learn more about. So, let's meet the man who has been a creative force in American innovation for over 40 years.
Dean L. Kamen was born on Long Island, New York on April 5, 1951. His father, Jack Kamen, was an illustrator for Mad Magazine, Weird Science, and other comic books, so Dean was exposed to "out of the box" thinking from the get-go. He attended Worcester Polytechnic Institute, but like so many other creative geniuses, dropped out before graduating. In 1972, while still an undergraduate, he developed the first portable infusion device that automatically delivers accurate doses of medicine, such as insulin, over extended periods of time. It's small enough to allow people that once required round-the-clock hospital care to be mobile enough to live normal lives. So, he dropped out of school and started a company, AutoSyringe, to market and manufacture the pump.
In 1981, Kamen co-founded DEKA Research & Development Corporation, which introduced a new type of portable dialysis machine, and the HydroFlex Irrigation System; a multi-purpose pump that supplanted the separate pumps normally needed for certain surgical procedures and gynecologic exams. He also invented an innovative arterial stent, used to support damaged arteries and keep them open and flowing. In 1999, Kamen came out with the IBOT, a motorized all-terrain electric wheelchair with a built-in computerized gyroscope for balance and that can actually climbs stairs.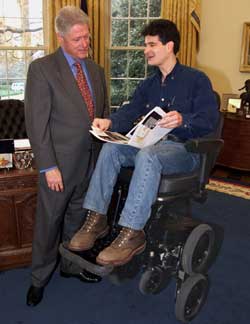 And in 2001, using much of the same technology he created for the IBOT, he launched the Segway, a two-wheeled self-balancing mobile device that allows riders to stand while they ride. Though it looks like it's going to fall over any minute, the Segway senses the lean of the rider with the assistance of five micro-machined angular rate sensors and two accelerometers that sense the angle of the Segway, with respect to gravity, at 100 times per second. It balances the rider by applying forces to the ground in the direction of the lean. Of course, the device took a public relation's hit when President George W. Bush fell over during his riding attempt in 2003, so it may not be as easy as they say.
Some of his recent projects include creating portable energy and water purification systems for use in developing countries, and a prosthetic arm for maimed soldiers. But as he describes it, his proudest accomplishment is founding FIRST (For Inspiration and Recognition of Science and Technology) in 1989— "to transform our culture by creating a world where science and technology are celebrated and where young people dream of becoming science and technology leaders." So not only is Dean Kamen an innovative mastermind, his passion and determination to help young people discover the excitement and rewards of science and technology are what help make this country so great.
Source:
http://www.ted.com/speakers/dean_kamen.html
http://www.nndb.com/people/330/000022264/
http://en.wikipedia.org/wiki/Dean_Kamen
http://www.invent.org/hall_of_fame/222.html
http://www.segway.com/about-segway/learn-how-PTs-work.php
http://www.usfirst.org/aboutus/vision
Photo:
http://upload.wikimedia.org/wikipedia/commons/b/bc/Dean_kamen.jpg
http://upload.wikimedia.org/wikipedia/commons/7/7a/Clinton-kamen.jpg