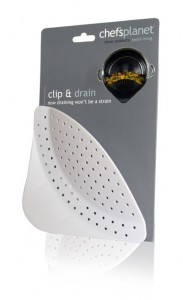 It's National Inventors Month and this month-long event celebrates inventions and creativity; at Davison, we have lots of both, thanks to our innovative inventors!
On Wednesday, May 6, one of our client's inventions, the Clip & Drain, was featured on NECN, an NBC affiliate in New England.
The Davison-designed Clip & Drain was invented by our client in order to create a Better Way to drain pasta and more. It was featured in the celebrity-edition of "Does it Work?" and we couldn't be more excited to share the news with you!
Celebrity chef Chris Coombs from Deauxave in Boston's Back Bay put our client's invention to the test to see if the Clip & Drain would live up to its promise of fitting on the edge of most sizes of pots and pans to take the place of bulky colanders.
In the segment, Coombs tested everything from pasta to potatoes to see if the Clip & Drain stood by its tagline: now draining won't be a strain.
Did the Clip & Drain pass the test? You'll have to watch the video to find out!
The Clip & Drain is available in stores like Sur La Table, Home Depot and Target to name a few. Get yours today!
Copyright Davison, 2015
Sources:
http://www.necn.com/news/business/Chefs-Planet-Clip–Drain-302860201.html
The client has not realized a net profit on this product. A typical project does not get a royalty agreement, sell in stores or generate a profit.