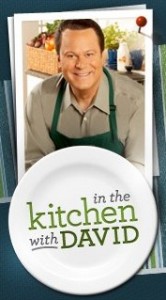 Add another "W" to the win column for the Davison-design team! On Sunday, September 29, our Davison-designed 'Cool Bake' was featured on QVC's "In the Kitchen with David"!
The Mrs. Fields Bakeware Innovation did not disappoint while on the show. Let it be known that the 'Cool Bake' isn't just limited to cooling cookies. QVC host David Venable demonstrated just how useful the 'Cool Bake' really is!
During the segment, David showed viewers the versatility of our Davison-designed product! He showed delicious cookies, nachos, pizza, croissants, pigs in a blanket, French fries, cinnamon rolls, chicken tenders and other mouth-watering treats can be made with the 'Cook Bake'.
Venable even went on to say that "not a one of these are going to stick and break your heart.." and we couldn't agree more!
If that wasn't enough, long-time QVC kitchen product specialist, Marie Louise Ludwig, joined in on the conversation and had nothing but great things to say about the Davison-designed product, too.
"It's the best out there right now.." says Ludwig, as she pointed out the Cool Bake's 600 tiny holes and the "little feet" that allow it to easily become a cooling rack.
If you missed the Cool Bake's appearance on QVC last Sunday, click on the video tab here to see it now!
Copyright Davison 2013
Sources:
http://www.qvc.com/Mrs.-Fields-Cool-Bake-All-in-One-Baking-Sheet-Search-Results.product.K39695.html?sc=K39695-SRCH&cm_sp=VIEWPOSITION-_-1-_-K39695&catentryImage=http://images-p.qvc.com/is/image/k/95/k39695.001?$uslarge$