Smart thermostats are already on the market. However, Honeywell just introduced their own version, the Lyric thermostat. So, what's the big deal you may ask? For starters, this new invention utilizes geofencing technology within the device itself. But, the game changer, which sets this smart thermostat apart from the abundance of others already on the market, is the fact that it can change the temperature based on how close you are to your home — from 500 feet to up to seven miles away!
Let's say that you are driving home from work and you enter the seven-mile radius from your house; the Lyric thermostat will start to cool off or heat up your house based solely on the weather outside.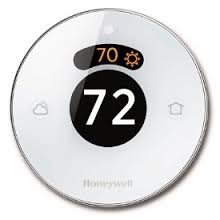 This is the first product of its kind that relies on proximity rather than predictability. The Lyric thermostat will work with both iOS and Android devices so that a user can utilize their smartphone or tablet in order to adjust temperatures remotely.
The built-in proximity sensor signals the display, which turns on and shows current temperatures and statuses that include heating up and cooling down. The edge of the device lights up when certain temperature adjustments occur. For instance, the device turns orange when heating, blue when cooling and green when away/saving energy.
Though all of these features of this invention sound or, in this case, "feel" very innovative, it doesn't stop there. One of the most unique features of the thermostat is that it works with AccuWeather to take into consideration the humidity outside and other weather elements.
For example, let's say that it's a rainy day and it's 72 degrees and humid. That day definitely feels different than a sunny, 72 degree day. So, the Lyric thermostat adjusts the temperature accordingly.
This invention also is environmentally-friendly and cost effective, because it senses when the house is empty and switches to energy-saving mode. Furthermore, this smart thermostat offers a safety feature as well through a text notification that is sent when someone in your family hits the threshold or arrives home. This is a great feature to use to tell when your kids get home safely!
All in all, this hot idea is translating into a cool invention and the Honeywell Lyric Thermostat will hit stores in August!
Here is a quick clip to see this innovative invention in action:
Copyright Davison 2014
Sources:
http://www.engadget.com/2014/06/10/honeywell-lyric-thermostat/
http://mashable.com/2014/06/10/honeywell-lyric-thermostat-smart/
Media:
http://www.pcmag.com/article2/0,2817,2459192,00.asp