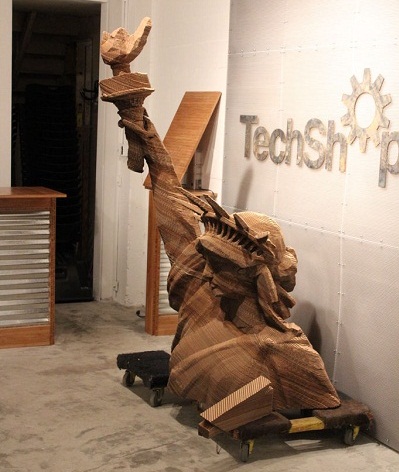 In the past, three dimensional design, rendering, and capture required powerful computers, training, expensive software, and equipment, and was generally inaccessible to the general public. Even three dimensional scanning and replication was considered something seen only in movies, or the subject of science fiction stories. Well, thanks to Autodesk, makers of AutoCad, Maya, and 3ds Max, users can now create, edit, and even scan 3D models on their iPhones, iPads, and home computers.
The full design suite consists of five apps. The first of which is 123D catch, available online, for iOS, and for download. This app allows users to take twenty to forty photos from various angles, and upload them to Autodesk's cloud to generate three dimensional models. An iPhone or iPad simplifies the process. The model is then sent back to the user for editing, uploading to their site, or 3D printing. The desktop and web version allow the user to edit and cleanup their models. Below you'll find one that we shot and edited right here in Inventionland.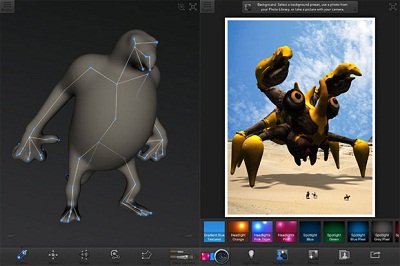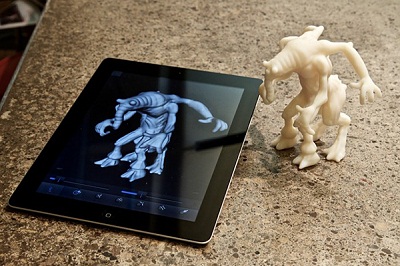 123D Creature is an iPad exclusive app designed to allow children and adults alike to create the monstrosity of their dreams with relative ease. It starts with a simple skeleton creator where users lay out the basic anatomy of their creature in digital clay. Once finished, a creature can be painted or adorned with decals and textures from the user's iPad photo library. Finally, the creature can be put in an environment with customizable lighting, shadows, filters, and backgrounds. For those without access to a 3D printer, with just a few swipes of the finger, users can have a 3D print delivered to their doorstep. 123D Sculpt uses the same type of "clay modeling' that 123D Creature does, but with unlimited freedom to create anything the imagination desires.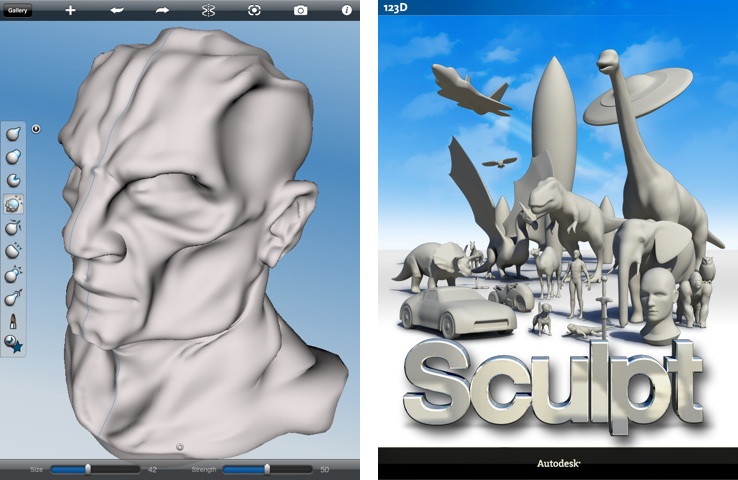 They've also released a free 3D modeling tool, 123D Design. It's all about designing models by using complex tools to create anything you can think of. Like most of the other apps, it comes with models to get users started.
"Someone who's brand new and doesn't know how to work in 3D can start with this stuff and learn how to assemble things," Christian Pramuk, 123D's apps product manager at Autodesk, told Mashable. "You can be a complete novice, or you can delve into it and get quite a bit done."
The app has a number of built-in shapes to help users get started, and offers pre-loaded "kits," such as a robot kit that helps build your own robot with predesigned parts that can be resized or customized to meet users' personal preferences.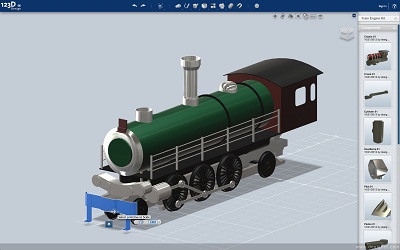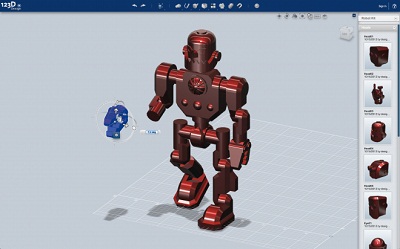 Autodesk refers to the last program in the suite "DIY Joy." If you don't have access to a 3D printer, or you don't want to send your creation to Autodesk to be printed, all it takes is a home computer, iOS device, a regular printer, or even some cardboard, scissors, and glue to bring your creations to life. Using any of the 3D models that users create in any of the other programs, or ones found on the web, 123D Make slices and sections projects so that they can be printed out on paper, then traced to cardboard, wood, acrylic, or any other material that the user wants, and glued together to create finished models.

All programs can be downloaded at 123dapp.com
http://mashable.com/2012/03/22/autodesk-3d-printing-ipad/
http://mashable.com/2012/11/07/123d-design-autodesk/
http://www.engadget.com/2013/02/14/autodesk-123d-creatures-lets-you-create-monsters-on-your-ipad/
http://techcrunch.com/2013/02/13/autodesk-releases-123d-creature-a-tool-to-design-paint-and-print-your-own-3d-monsters/
http://www.pocket-lint.com/news/48435/autodesk-123d-design-app-review+&cd=21&hl=en&ct=clnk&gl=us