When our client, Diane, thought of a Better Way to keep her pups hydrated on long car rides, do you think she ever imagined that her new product idea, the Hydro Bone, would be featured on national TV as a life-saving solution for helping pets beat summer heat?
Thanks to Fox & Friends, the Hydro line that spawned from Diane's idea was featured yesterday on the show that reaches millions of viewers nationwide!
Celebrity vet Dr. Carol Osborne led a pup into a pool where the Hydro Fetch and Hydro Ring were floating alongside the Arctic Freeze Ball and Arctic Freeze Bone!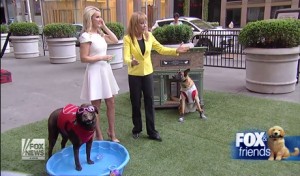 Touting innovative products that help keep pets cool and hydrated during the dog days of summer, Osborne discussed the importance of protecting pets during intense summer heat.
Yes, that is exactly what our client, Diane, wanted to do for her pets; now, that's exactly what her Hydro line of products can do for pets all over the world!
As you know, Diane's new product idea was licensed by Hugs Pet Products. Since that time, the Hydro Bone has sold in big-time retailers like Petco, Home Depot and Bed Bath & Beyond, to name only three of the many stores that have sold the product. The Hydro Bone was named a Dog Fancy Editors' Choice Award winner; it already has been featured on ABC's "Good Morning America" and CBS' "The Early Show."
Now, we can add Fox & Friends to that national TV list!
If you haven't heard about our client Diane's incredible inventing story yet, learn more about Diane and her Hydro Bone by watching her entertaining Dare to Invent episode!
Copyright Davison, 2015
A typical project does not get a royalty agreement, sell in stores or generate a profit.