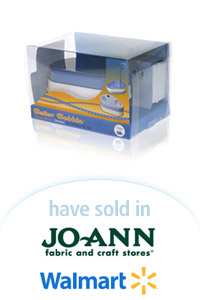 The newest innovations in the sewing/crafting world have just hit the store shelves, and they all have a blue "D" on the package. Four Davison products/packages, including a client project that we developed for a corporation are now in Jo-Ann stores, a leading specialty retailer of crafting and sewing products.
The Better Bobbin, invented by our client, Thomas, provides an innovative and time-saving way to wind bobbins of all sizes without having to unthread a sewing machine – Congratulations, Thomas! The Quick Cut electric scissors provides a more convenient and precise cutting tool. The Travel Folding Stitcher's Tools combines tape measure, scissors, needle threader, seam ripper, stiletto, and a removable magnifying glass in one. We also created interactive packaging for the Petite Press mini iron.
A typical project does not get a royalty agreement, sell in stores or generate a profit. The client has not made a profit on this product.