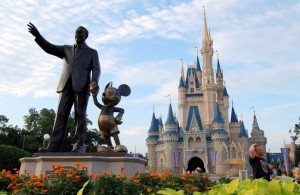 Saturday, December 5th would have been Walt Disney's 114th birthday!
Walt Disney is known as one of the most creative animators and entrepreneurs of all time. Did we also mention that he just so happens to be one of our founder and CEO George Davison's inspirational heroes, too?
Born on December 5, 1901 near Chicago, Illinois, Walt Disney always had an innate desire to create.
Though we know Walt Disney, of course, for his popular creations of Disneyland and Disney World, we wanted to share with you five fun facts that you might not have known about Walt Disney himself!
At the age of 16, Disney dropped out of high school in the hopes of joining the Army, but was rejected for being too young. Instead, he was able to become an ambulance driver for the Red Cross in France.
Disney's first animation studio was named Laugh-O-Gram. It was here that he began to tell modernized fairytales that were based on Aesop's Fables. However, the studio went bankrupt (Luckily, that roadblock didn't deter Disney!).
Disney was known for his skills as an animator; but, he also gave voice acting a chance as well. Mickey Mouse was created in 1928 and from there until 1947, the voice of the mouse was provided by none other than Disney himself, before it was turned over to an English voice actor. However, Disney loved the Mickey Mouse character so much that he returned to the studio in 1955 to voice Mickey Mouse shorts for his company's television show, The Mickey Mouse Club.
After Disneyland opened, Walt Disney wanted to build a ski resort in California's Sequoia National Park that mimicked a Swiss-style base village. Though Disney received approval from all governmental agencies, unfortunately when Disney passed away in 1966, the company felt that it could only handle one project at a time, thus deciding to spend their time completing Disney World.
Walt Disney won 22 Academy Awards and was nominated 59 times between 1932 and 1969.  Three of these awards were created specifically for him, one of which was for his creation of Mickey Mouse, while another recognized his contribution of music in the animation field and finally, an Oscar was given to honor Snow White and the Seven Dwarves that featured a traditional Oscar statuette and seven mini versions along with it.
Without a doubt, Walt Disney's creativity and innovative legacy live on through the many parks, films and other memorabilia that now bear his name.
So, to commemorate Walt Disney's birthday, we hope that you enjoyed these five fun facts that you might not have known about the man whose creativity continues to inspire creative minds all over the world!
If you have the same undeniable determination to bring your creative ideas to life, submit your idea today.
Copyright Davison, 2015
Sources:
http://www.biography.com/people/walt-disney-9275533#video-gallery
http://www.inc.com/larry-kim/31-surprising-facts-about-walt-disney.html
http://entertainment.time.com/2013/10/16/10-things-you-probably-didnt-know-about-walt-disney/
https://c1.staticflickr.com/5/4004/4697933152_f4430ec5b7_b.jpg