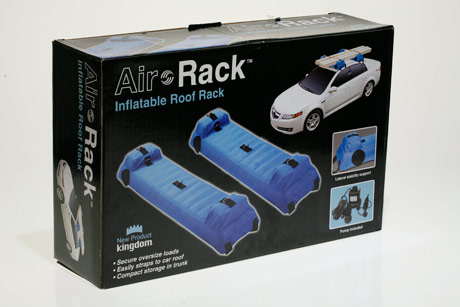 The first product we have created for New Product Kingdom is on its way to the store shelves! The Air Rack that we designed for the company is being shipped to a distributor in Canada, which will send the 300-piece test order to stores in the Home Hardware chain – Canada's largest independent home improvement retailer!

"It works well, it looks good and hopefully it will sell a ton," said Davison's VP of Licensing. "This is the first NPK product, and there will be many more to come."
The heavy-duty inflatable product, which includes a pump, can be quickly and securely attached to the roof of a vehicle, providing an instant and lightweight rack to hold oversize loads. When not needed, the rack can be compactly stored in the trunk.
The product design, graphic design, packaging and photography were all created in house.  The Air Rack concept came out of a brainstorming meeting with the corporation last summer. Three related projects are also in the works: kayak / canoe rack, cargo rack, and storage pad – which will make four items in the line. The small packaging required for inflatable items takes up much less space on the store shelf, which has many benefits for the retailer and corporation, as well as the consumer, said Davison's corporate design manager. "You just can't beat the packaging space."
Congratulations to all who worked on this great new product! We can't wait to see the rest of the line!