Introducing (Drum roll, please!)…The Davison.com Trade Show Page!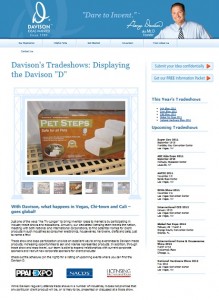 We all know our licensing team "tries longer" to bring our inventors' ideas to market by attending industry trade shows and expositions. Now, with just a click, current and future clients will know our team is out there representing Davison products across the nation too!
Davison's President said he thinks the page further reinforces just how well our method works.
"It's one thing for a company to say they attend trade shows… It's quite another for a company to say they attend trade shows and have a proven method of getting people's ideas into the product lines of companies.  We do the latter," said the President.
Davison's Vice President of Licensing added, "The page looks great, and it's another avenue for clients to see the exposure Davison has at trade shows with our corporate clients!"
The new Davison.com Trade Show Page includes a "highlight reel" slide show of photos from previous shows, as well as news updates on each show attended. There's also a list of upcoming shows, so we can track our team's journey as they meet with national and international corporations, finding homes for electronics, housewares, hardwares, crafts and pet products!
While Davison regularly attends trade shows in a number of industries, it does not promise that any particular client product will be, or is likely to be, presented or discussed at a trade show.
To check out the new page, visit https://www.davison.com/tradeshows/.