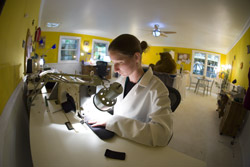 It's a simple concept: You want it? Then go ahead and make it. It's a theme you'll find throughout Davison, from the products we make everyday to the construction of Inventionland. It's no different for seamstress Jennie Feight, whose high-fashion designs were featured in a City Paper-sponsored fashion show, Local Motion, at Altar Bar in Pittsburgh's Strip District. Door proceeds benefited the Homeless Children's Education Fund.
Feight's career in fashion started about five years ago just because she wanted something.
"I wanted to make a costume," she said. "So, I had to learn how to sew."
She's shy to admit what the costume was for – an anime convention. Anime, is slang for Japanese animation. So, the Dragon Ball Z-inspired costume wasn't her best work, but it was a starting point. Her "cosplay" design has since improved and today she does it for a living here at Davison. "Cosplay" is slang for costume play, a growing underground fashion where people often dress as popular anime, video game, comic and movie characters.
While the costume was her catalyst into sewing, fashion design didn't take a foothold until a designer asked her to model his designs at a fashion show at Indiana University of Pennsylvania. Through the experience, she developed her own sense of design and has since been featured in three fashion shows. She currently designs under the name Vivifie.
Feight says she likes to theme her clothes, noting that she once created a line of clothes with an insect theme.
"I picked different bugs and took different elements from those bugs to create the designs," she said, explaining that she drew inspiration from flys, grasshoppers, beetles and butterflies.
She also likes to create with cost in mind. High design doesn't have to mean high costs. Instead of designing something with lofty fabric costs, she says she always keeps expenses at a reasonable level. And at times, designs are driven by what is directly at hand.
"Sometimes my designs change because I don't have the right fabric, so I like to design based on what I have. Which, I guess is kind of backwards."
For Local Motion, Feight abandoned themes, deciding to just create eight great original designs for a spring line.
Although the show provided Feight with models, she said she typically talks her friends into modeling for her. She explained that too many designers create clothes for models, whereas she says, "I like to work with normal size people."
Feight currently calls the Creative Cottage home in Inventionland. She works on almost all projects requiring sewing at Davison.
In addition to designers like Feight, Local Motion featured local jewelry artists, salons and retailers with dancing and music provided by DJ 7UP and Näkturnal.