Late last year, we burst onto the social media scene with the launch of our Facebook and Twitter pages.  This year, we're expanding our social media presence from "likes" and "tweets" to include "pins" and "circles!" We're excited to announce the recent launch of Davison Pinterest and Google+ pages!
And, we've got to say, if you haven't caught on to the Pinterest craze just yet, you definitely will now!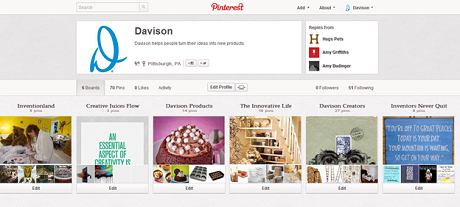 The online pinboard allows users to share images of all of the things they love!  Since everything we do (i.e. drawing, designing, engineering, creating prototypes) is so visual, Pinterest is the perfect place to show it all off!
Some of our current boards include "Inventionland," where we can share more of our creative design facility, "Davison Products," where we're able to show Davison-designed products in action and on store shelves and "Inventors Never Quit," where we're able to keep inspiring and motivating prospective inventors to pursue their ideas!
Check out Davison's new Pinterest page here!
Once you've pinned all of your favorite things (be careful, it's addicting!), visit our new Google+ page!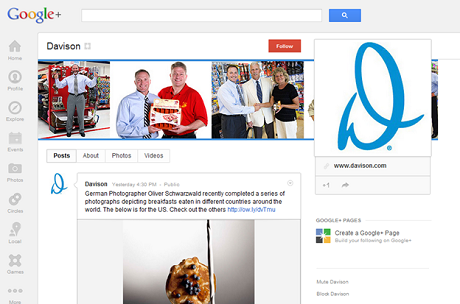 As if Google didn't already have everything you could think of and more, they now have social media, too!   And, Google+ allows you to do… well… everything!
We're especially excited because Google+ will allow us to connect and chat with other inventors, plus share information and photos with friends and clients!
Plus, unlike any other social media forum, the "Circle" function on Google+ allows you to group your followers together, so we can tailor what we share (i.e. our licensing partners may not have the same interests that our fellow inventors do)!
Check out the new Davison Google+ page here!
Whether you "like it," "retweet it," "pin it" or "+1 it," make sure to share all the great news about Davison on social media!