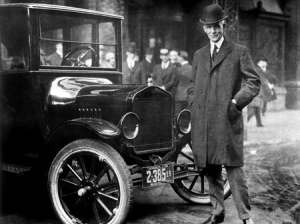 Early Saturday morning, we'll be boarding buses that are heading to Dearborn, Michigan! Why are we going there? Because its home to none other than the Henry Ford Museum and Greenfield Village.
The Henry Ford Museum is home to all things inventing and, as their website says, its single-floor space, "with its soaring 40-foot ceilings, covers nine acres dedicated to showcasing the finest collection of its kind ever assembled."
With that being said and with lots of great exhibits, it's sure to be a very innovative day!
This fun-filled day of inventing history will begin bright and early. Once we arrive, we'll spend the day touring the museum and soaking up all of its innovation!
Tune in to our Facebook and Twitter pages for live coverage of our tour at this iconic museum.
Copyright Davison, 2015
Sources:
http://www.thehenryford.org/museum/index.aspx
Media:
https://media.ford.com/content/fordmedia/fna/us/en/news/2013/08/05/model-t-facts.img.png/1375732275161.jpg