Next Thursday might be Thanksgiving, but this week we are happy to inform you about a Davison-design that will be featured at 7 a.m. tomorrow on Lifetime TV's "The Balancing Act."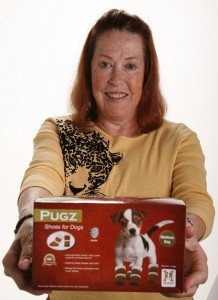 Mr. Davison and our client, Kay, along with her Pugz Shoes (as part of their "Dare to Invent" webisode) will be the featured guests on "America's premier one-hour women's morning show" tomorrow, November 15th.  The innovative episode will also be shown at 7 a.m. on Black Friday (you can watch before heading to the mall), November 22nd.
Our client and Michigan native, Kay, dreaded taking her two Shelties, Autumn Angel and Rough Spot, out in blustery, wet weather.  Her faithful friends would wind up with cold, snowy paws or even salt-soaked paws from treated roads and sidewalks.
"I needed something that would stay on and protect their paws… [Something to] keep their paws from getting dry and cracked," Kay said.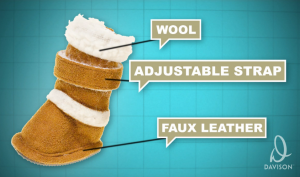 Kay thought of a better way to protect her pups and brought her idea for doggie boots to Davison, where our creative team worked to design, develop and license her idea into Hugs Pet Products' Pugz Shoes.
"I would advise [future inventors] to stay positive and do some research… Don't get discouraged, it can happen," said Kay.  "I'm a firm believer… nothing ventured, nothing gained."
Following "The Balancing Act" episode, we're giving our Facebook fans and Twitter followers the chance to win Pugz or any other innovative pet products!  By submitting a photo of their dog in Pugz or sharing why their dog needs a pair (well, um, 4 shoes), Davison fans will be entered to win a $100, $50 or $25 gift card to buy their very own Hugs Pet Products.
Tune in to Lifetime's "The Balancing Act" tomorrow at 7 a.m. and email your clients to let them know about our Facebook and Twitter Pugz contest!**
The Lifetime Network can be found on the following channels:
– DirecTV Channel 252 (SD/HD)
– Dish Network Channel 108 (SD/HD)
– Verizon FiOS Channel 140 (SD); Channel 640 (HD)
– AT&T U-verse Channel 360 (SD); Channel 1360 (HD)
– Available on most cable systems: Check local listings
Davison's research, development and presentation services are provided for an upfront fee paid by the client and a contingent fee (which is a percentage of royalties obtained by the client, if any). New product development is an uncertain endeavor and the use of Davison's services typically does not result in a license agreement, sales on any market or profit to the inventor. Davison does not perform analysis of the feasibility, marketability, patentability or profitability of ideas submitted to it.
** This promotion is in no way sponsored, endorsed or administered by, or associated with, Facebook. Sponsor: Hugs Pet Products and Davison Term: The Giveaway begins on November 14, 2012 at 8 am EST and ends on November 21, 2012 at 12 pm EST. To Enter: No purchase necessary to enter or win the Sweepstakes. A purchase will not improve your chance of winning. Register to win by completing the information on the Hugs Pet Products and/or Davison Giveaway Page. The employees of Hugs Pet Products/Davison and members of their respective immediate families are not eligible to enter this giveaway. When you enter the Sweepstakes, you are also opt-in to receive advertising and promotional offers from Hugs Pet Products and Davison. You can opt-out of receiving offers at any time and opting-out does not impact your chances of winning. Prizes: Sponsor will giveaway one (1) $100, (1) $50, and (1) $25 Gift Card to a retailer selected by the sponsor. Winner Selection: Potential winner will be selected in a random drawing from among all eligible entries received by November 21, 2012 at 12 pm EST. Odds of winning are dependent upon the number of eligible entries received.