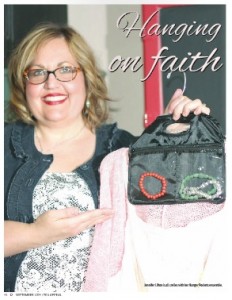 No, you didn't read that headline incorrectly. We said that the Hanger Pockets we designed at Inventionland for our client Jennifer have some serious "Tex Appeal!"
Now, what on earth did we mean?
The clothing accessory organizer that conveniently slips over a hanger, allowing users to keep their outfits carefully coordinated, has been featured in the September issue of a Central Texas life and style magazine, aptly named "Tex Appeal."
According to their website, Tex Appeal is "fascinating, alluring, engaging, tempting, influencing, and charming… all about Central Texas living . . . the people, the places, and the things that make us appealing."
In their September 2014 issue, Tex Appeal writers featured an article that told the story of how Hanger Pockets came to be. Not only was a Davison inventor and her product featured in the magazine, but our founder and CEO Mr. Davison contributed to the story as well!
In a one-on-one interview with our inventor, Jennifer, she reveals that she originally signed with Davison in 2008, but it took her over two years to save the funds to move her idea forward. Our client said that even when her idea moved forward, there was a lot of waiting around.
"When I did hear, I got rejections from several manufacturers. At that point, I decided to put the matter in God's hands and move forward with my life," Jennifer said.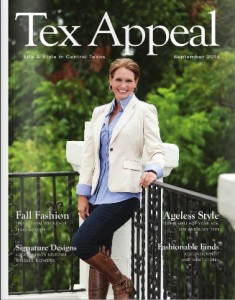 Early in 2014, Jennifer got a call that was not a rejection, but a licensing agreement with the Jokari Corporation. Though she was overjoyed, she said that she, again, waited another six month for her Hanger Pockets to hit the market.
"Be sure you have a strong support network also, because you will go through a roller coaster of emotions – you need people around who will believe in you and listen. You also have to walk by faith and not what you can see at the moment," said Jennifer.
Mr. Davison said that Jennifer's product is off to a great start, thanks to her persistence to pursue her idea.
"Hanger Pockets is off to a good start; it's gotten the kind of response we hoped to get… [Jennifer] had an idea that worked and Jokari was happy with it, too. This is a win-win for all parties involved," said Mr. Davison.
Read more about Jennifer's Hanger Pocket story and see what the magazine has to say about our nine-step Better Way to Invent on pages 42-43 of Tex Appeal.
Congratulations, again, to Jennifer and the entire Davison and Inventionland teams that worked to bring Hanger Pockets to market!
Copyright Davison 2014
Sources: