September is National Sewing Month, when a favorite hobby and craft is celebrated. At Davison, we recognize the innovation that has taken place over the centuries to make sewing what it is today. The first sewing needles, made of bones or animal horns, evolved into iron needles in the 14th century, followed by the first eyed needles in the 15th century. As seen throughout history, technology and innovation have revolutionized how we work. For sewers, it was the mass production of the Singer sewing machine — an invention where the needle moved up and down rather than side-to-side. Another breakthrough was Singer's invention of a foot treadle (pedal) that powered the machine, unlike the previous hand-cranked machines.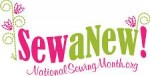 While often associated with clothing, sewing is also used in shoemaking, bookbinding, and the manufacture of sporting goods. As the fundamental process underlying textile arts and crafts, sewing has grown into a major market. From pins to bobbins to scissors and storage organizers, there are many products available that make tasks easier, improve results and add to the enjoyment of sewing.
At Davison, we have contributed to that market with several innovative new products:

Better Bobbin – a bobbin winder we developed for a client that fills bobbins from various sizes of thread spools with no need to unthread the machine needle or use an additional spool. The unit also has an easy to follow thread guide, an adjustable tension disk, a built-in thread cutter and a telescoping spindle for large spools. The client has not yet received a profit on this product.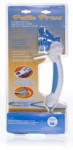 Petite Press – a portable mini iron with an ergonomic grip, digital control pad and four-position adjustable head. The cutout package design enables consumers to interact with the product, and the graphics clearly communicate all its features.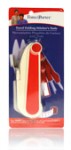 Travel Folding Stitcher's Tools – an all-in-one unit that includes tape measure, seam ripper, threader, snipper, awl and magnifying glass. Each tool can be extended and locked into place, or enclosed in the case for easy transport and storage.
Luma Threader – a threading tool with an illuminated threader that makes it easy to see the thread and eye of the needle. The spring-loaded fork cradles the needle, and with a push of the handle, the thread goes right through the eye.

Ultimate Stiletto – a quilting tool that guides fabric precisely and easily while sewing, ensuring a straight seam. The tool grabs and adjusts fabric as you stitch, prevents fabric from shifting and guides the fabric for a smooth seam.
Quilt Class Bag – a roomy, compact fold-out bag that can store and transport a variety of quilting supplies. Numerous pockets and straps hold all sizes of tools, as well as an included rotary mat and ruler.
Licensed under the well-known Prym/Dritz and Fons & Porter lines, these products have sold in major craft stores including Jo-Ann Fabrics, along with many online retailers. Davison is proud to have made a contribution to this age-old craft and vital industry.
Take a look inside the Crafty Cottage at Inventionland where all of these products, as well as other sewing and craft products were worked on.
Happy Sewing!