Quilt Class Bag
A Better Way to Head to Quilting Class
The Problem:
The art of quilting is becoming increasingly popular, as are classes to teach the age-old craft. But carrying all the many tools, notions and materials to a class or quilting get-together can be quite a hassle; and keeping all the supplies organized can be next to impossible.
Davison's Better Way:
We created the Quilt Class Bag for quilting enthusiasts who need a convenient way to store and transport all their quilting supplies. The roomy but compact bag folds out flat so everything can be accessed with ease. Numerous pockets and straps store and hold all sizes of tools and supplies, as well as an included rotary mat and ruler. The attractive, contemporary bag is easy to carry with an adjustable and removable shoulder strap. We licensed the product to the largest manufacturer and distributor of sewing, quilting, and craft-related notions in North America.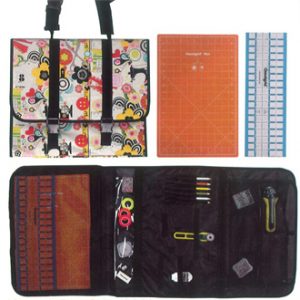 Featured in the following stores:

Jo-Ann Craft and Fabric Stores
Creative Patches
Naehwelt-Machemer
Fabric Depot
Nancy's Notions
SewingMachinesPlus.com
Quilt 'N Bee
GobStock.com
This is a corporate invention and the same 9-step Davison Inventing Method is used to develop each idea, for idea people who work with us on their ideas or corporations that ask us to invent for them.