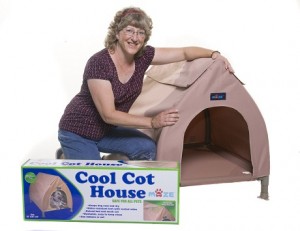 It's time again for another innovative "Dare to Invent" webisode premiere and this week, we're really in the dog house!
Tonight's webisode is the eighth in our 13-episode series and features Sharon Jones, inventor of the Cool Cot House, along with our talented, and often hilarious, team of Creationeers!  Join the "Dare to Invent" house party on YouTube and at Davison.com now!
Sharon, a small-town homemaker and self-published poet, got tired of seeing pets in stuffy, dirty doghouses or, worse yet, out in the rain and sweltering sun, where there was no comfortable spot to stretch out on.  
The animal lover, who often took her pet cats on walks and even camping trips, devised her own way to protect Fido, Lassie and Fluffy Kitty from bad weather and stinky shelters.
She brought her innovative idea for a comfortable, portable "tent" to Davison, where our team began working on an extreme pet home makeover that resulted in Sharon's Cool Cot House!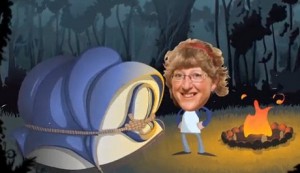 Equipped with a comfortable raised pet bed that can be used indoors and out, the Cool Cot House is lightweight, portable and features a heavy-duty, water-resistant canvas cover with mesh vents to protect pets from the rain, while increasing air flow.
The end result?  Pets stay cool and dry!
Sharon's Cool Cot House was licensed by Hugs Pet Products and has sold in SkyMall, Sam's Club and several other retailers.  Sharon and her product were also featured on Lifetime's "The Balancing Act."
Find out why Sharon says our team "went above and beyond the call of duty."  Tune in as Sharon "Dares to Invent!"
A typical project does not get a royalty agreement, sell in stores or generate a profit.