Obviously, we are still reeling with excitement from last month's SuperZoo trade show in Las Vegas. With all of the potential for Davison-designed products in 2015, it is hard not to be pumped up!
But, why wait until next year to get excited about seeing some Davison-designed pet products on the market?

Recently, it was brought to our attention that Coupaw.com had a deal on Sticks Throwing Dog Treats, a tasty product that we designed for Hugs Pet Products!
According to their website, Coupaw is a pet-friendly, member website that offers its users limited-time deals on pet supplies in order to "tell other people about some of the best pet services and retailers [they] could find, and to arrange some great savings for all of us!"
When a user subscribes to Coupaw, deals on dog and cat products are emailed to them. For a limited time, they are able to take advantage of those deals and share them with friends and family to get credit toward future deals.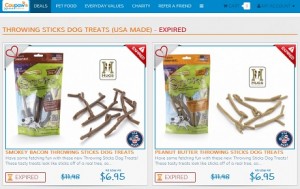 Although the Sticks deal has now expired, it had featured both the Smokey Bacon and Peanut Butter flavors of the throwing dog treats for as low as $6.95, almost half of their $11.98 suggested retail price.
What's even better than seeing one product that we designed at Davison for sale?
While pawing around for Sticks on Coupaw.com, we spotted ANOTHER Davison-designed pet product featured on the website!
The Whack-a-Mouse Interactive Cat Toy had been offered as a deal on Coupaw, too! The Whack-a-Mouse, cousin of the whack-a-mole, is a game that will keep any cat chasing after a toy mouse for hours.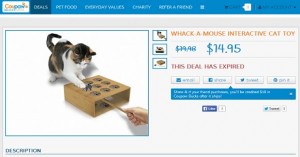 If you've got a pet (or even if you don't), sign up for Coupaw.com alerts today and see some awesome Davison-designed pet products at super-great deals!
Copyright Davison 2014