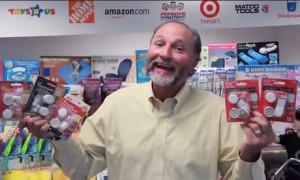 What better way to celebrate our industry and National Inventors Month than by discovering some of the fruits of our clients' and our own labor?
Well, today, we've got news from our founder and CEO George Davison that takes our National Inventors Month celebration to a multi-branded level!
You're may already be familiar with our clients, Gary and Ruth. Their invention, Twister Bolts, has been one of the most successful products that we've ever designed.
Not only do the Twister Bolts continue to sell at major hardware retailers like Lowe's, Home Depot and Ace Hardware; but, Gary and Ruth continue to collect royalties on their Better Way to secure toilets to bathroom floors.
Maybe you've even seen Twister Bolts at a local hardware store before. But, what Mr. Davison has to reveal about Home Depot's own private label, Everbilt, we can guarantee that you've never seen until now. In fact, now you can even see it nationwide!
Talk about some major product success! As Mr. Davison explained, once a client finds a Better Way to do something and it is designed, then licensed, it can be branded under multiple names and sell in several different stores… all at the same time!
So, this week, we're celebrating National Inventors Month by showcasing our clients, Gary and Ruth, and their multi-branded success with Twister Bolts! Congratulations to Gary, Ruth and everyone at Davison and our very own invention factory Inventionland who helped them bring their Better Way to stores nationwide!
Happy National Inventors Month!
Copyright Davison, 2015
This client has realized a profit on this product.
A typical project does not get a royalty agreement, sell in stores or generate a profit.