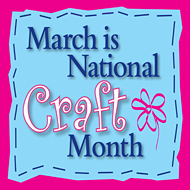 Since its establishment in 1994 by the Craft & Hobby Association, National Craft Month has celebrated the creativity of crafting enthusiasts around the world.
The art of crafting has been around for ages: the modern pottery wheel was invented in the 16th century, although primitive versions date to 4,000 B.C.; embroidery pieces have been found in Egyptian tombs and medieval churches, but not until the invention of the first embroidery machine in 1828 was mass-production of embroidery possible. And in 1873, Mark Twain patented the first scrapbook, which was innovative for its time due to the fact the pages were pre-coated with mucilage.
Let's take a moment this month to appreciate the scrapbookers, jewelry makers, quilters, pottery spinners and all crafters alike who have contributed their creativity to the market. We have also contributed to the craft market with several innovative new products:

Better Bobbin Winder– a bobbin winder we developed for a client that fills bobbins from various sizes of thread spools with no need to unthread the machine needle or use an additional spool.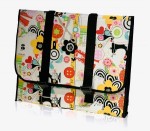 The client has not received a profit on this product
Quilt Class Bag – a roomy, compact fold-out bag that can store and transport a variety of quilting supplies. Numerous pockets and straps hold all sizes of tools, as well as an included rotary mat and ruler.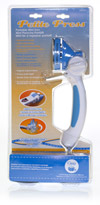 Petite Press – a portable mini iron with an ergonomic grip, digital control pad and four-position adjustable head. The cutout package design enables consumers to interact with the product.

Luma Threader – a threading tool with an illuminated threader that makes it easy to thread a needle. The spring-loaded fork cradles the needle, and with a push of the handle, the thread goes right through the eye.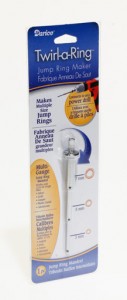 Twirl-a-Ring –a multi-gauge mandrel designed to make three sizes of jump rings. The one-piece unit attaches to a drill to provide jewelry makers with a quick, inexpensive and efficient way to create multiple rings.

Ultimate Stiletto – a quilting tool that guides fabric precisely and easily while sewing, ensuring a straight seam. The tool grabs and adjusts fabric as you stitch, prevents fabric from shifting and guides the fabric for a smooth seam.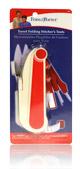 Travel Folding Stitcher's Tools – an all-in-one unit with tape measure, seam ripper, threader, snipper, awl and magnifying glass. Each tool can be extended and locked into place, or enclosed in the case for easy transport.
These products have sold in major craft stores, including Jo-Ann Fabrics, Pat Catans, Michaels, A.C. Moore, as well as many online retailers.
Here's to all those crafty people out there who bring creativity to life!