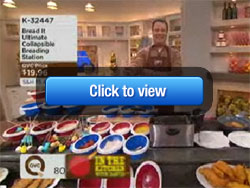 The Bread-It "Ultimate Breading Station" that we created for Xtraordinary Home Products has just been launched into the marketplace on QVC! The innovative kitchen product, which keeps all breading ingredients neat and organized, was presented during the popular "In the Kitchen with David" show.
"It was a great debut," said Davison's VP of Licensing. "The presenters really showed all of the product's great features."
Co-host Marie Louise Ludwig said the item is the "perfect" solution to a common problem. "The bowls are longer and deeper so you can bread food correctly," she said, demonstrating. The hosts also showed multiple great uses for the product and highlighted the "naturally non-stick" silicone material.
The QVC "first look item" will be shown at the International Housewares Show in Chicago, March 6 – 8, where it is sure to garner the attention of buyers looking for innovative new products to add to their store shelves.
This is the sixth product in two years to air on QVC as a result of the collaboration between Davison and XHP. The unique product follows successful QVC launches of many products, including the Meatball Baker, Party Traveler, and Silicone Dessert Bar Pan (all client products), as well as the Surprise Filled Dessert Pan.
"I'm not surprised this one was also snapped up by QVC," said CEO George Davison. "It's a testament of how great things come from teamwork and strong partnerships. I'm very proud of the team for turning out another winner! Bread-It is a super multi-use set of collapsible bowls … It's great for breading as well as for serving snacks and sides … plus when you're finished it takes virtually zero storage space!"
Another D-lightful product has made its marketplace debut, but it certainly won't be the last one — more great Davison innovations for XHP are set to launch into the market in the coming months, so stay tuned!
This was a corporate project that Davison developed and licensed for its own benefit.