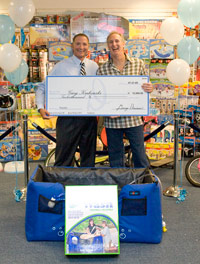 Our client, Gary, was blown away when he found out his pet care invention, the Dog Wash, was selling in Sky Mall, an airline catalog that features luxury goods and products from specialty manufacturers. The sprinkler installer got the great news as an invited guest to Davison in Pittsburgh, PA, where his new product idea was developed. During a visit to Inventionland, he saw the packaged product for the first time and learned it was already on the market.
"That was awesome," said Gary. "It was even better than when I submitted my idea!"
He got a bigger surprise when George Davison, founder and CEO, presented him with his first royalty check. When asked what he was going to do now, he laughed and said, "I'm going to Disneyworld!" After several years of working on his idea, the receipt of his first royalty check was "a blessing" and "perfect timing," said Gary, who was temporarily out of work due to the poor economy.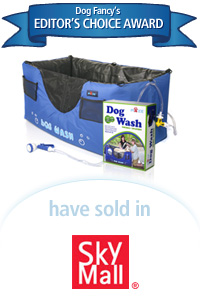 Inventor's story:
Gary came up with his new product idea in an attempt to help his buddy, "Snake," who had a dirty, white dog that ran away whenever he tried to give him a bath. Gary had some scraps of pipe and hose in his truck, so he built a device that would enable his friend to contain and wash the dog. Lo and behold, it worked. He saw a need for such a device on the market, so he went online and found Davison, a new product development firm that provides services to inventors, corporations and entrepreneurs. He submitted his idea and the design team went to work.
The finished product, which was licensed by Hugs Pet Products, is a portable and inflatable dog washing station that is easy to set up and use. The lightweight, heavy duty unit hooks up to a garden hose and has an adjustable full spray nozzle and gentle side spray, as well as a side entry for easy canine access.
Gary was not only thrilled with the product and royalty check, but by the royal treatment he and his friend, Scott, received at Davison. They toured Inventionland, "the world's most creative workplace," and met with Mr. Davison and members of the design and licensing team. The client was impressed with the "professional operation" and the work everyone has put into his product.
Gary described Mr. Davison as "a down-to-earth dude" who "really knows what he's doing." He was also impressed with the company's development process.
"Davison didn't just develop my idea, they actually expanded on it," he said. "I was skeptical; I never saw it coming this far. But it's there, it happened, and I can't believe it."
A typical project does not get a royalty agreement, sell in stores or generate a profit.