Every day, bright ideas are turned into new products.
Some of the best new product inventions come from average people from every walk of life who are trying to solve a problem or make life more enjoyable. These new products can be found on store shelves, in catalogs, for sale on television or via the Internet.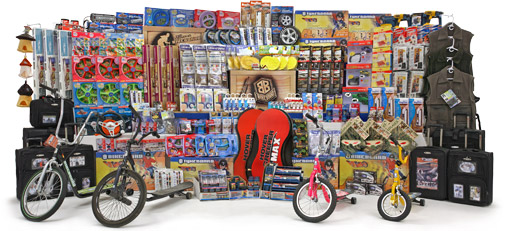 At Davison, we use our exclusive development process to take your idea for a new product and prepare it for presentation to corporations for possible licensing. Regardless of your ultimate goals for your idea, we will prepare and present it with pride. This will give you the satisfaction of saying, "I created a new product for licensing."
While we can't guarantee that the product you've created will be a success, it is safe to suggest that if you never pursue it, you may never find out. If you'd like to learn more about turning your invention into a new product, we recommend that you complete the free information form and Davison will send you information on our exclusive development process.
The products depicted on this page include both client-submitted products and products designed by Davison for its own benefit.