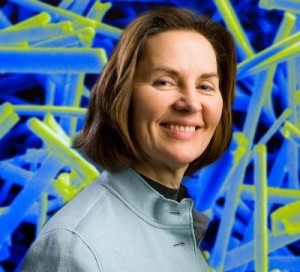 On Tuesday, we talked about Japanese inventor, Dr. NakaMats, the man with the most patents, who goes to great lengths in order to continue to generate great ideas and patents. Now, we want to shift gears and take a look at the woman with the most patents.
Esther Takeuchi, through amazing intelligence, diligence and hard work, has invented a life-saving medical device, in addition to countless notable patents credited to her name.
With more than 150 U.S. patents registered with the U.S. Patent Office, Takeuchi is the most "patent-est" woman in America. In addition to her illustrious patenting career, Takeuchi is also a professor at the University of Buffalo and was inducted into the National Inventors Hall of Fame in 2011. This award honors legendary inventors whose innovations have changed the world.
And, helping to change the world is exactly what she has done. She is best known for her invention of the battery that made implantable cardiac defibrillators possible, now a multibillion dollar business.
Her invention of the lithium/silver vanadium oxide battery has changed the game in the medical world. With the help of inventors, Hong Gan, Kenneth Syracuse and Noelle Waite, Takeuchi was able to develop this patent which was published on June 22, 2005.
The battery, otherwise known as LiSVO, enables power source technology, making it possible for a successful implementation of the implantable cardiac defibrillator. Her invention has become a life-saving medical technology.
Additionally, almost all of Takeuchi's patents pertain to energy sources and batteries, most of which are used to power biomedical implantable devices like tiny drug-delivery systems and neurostimulators, in addition to her most famous invention, the life-saving cardiac defibrillators.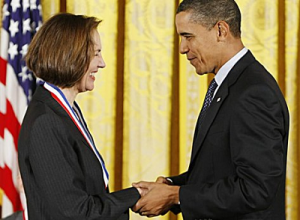 This invention, which was created for treating serious cardiac arrhythmia, was honored by President Obama in 2009, when she was presented with the National Medal of Technology and Innovation.
While at the University of Buffalo, Takeuchi spoke about the importance of patents in her career.
"Patents are one of the things that drive me. I have this belief that what we are doing in the lab should have a direct impact on human lives. Fundamental research is the basis, but for me, thinking about the next step is also important."
Although she has made great strides in the world of science through her patents and inventions, Takeuchi's frustration continues to build as she believes that the sciences are still too exclusive. In the following clip, Takeuchi talks about her upbringing, her famous invention and how women play an important role in science.
Copyright Davison 2013
Sources:
http://www.smartplanet.com/blog/pure-genius/battery-expert-and-woman-with-most-us-patents-on-her-next-innovation/3996
http://www.buffalo.edu/news/releases/2011/03/12330.html
http://www.buffalo.edu/ubreporter/archive/2011_03_03/takeuchi_hall_of_fame.html
http://www.upenn.edu/gazette/1111/pro02.html
http://commcgi.cc.stonybrook.edu/am2/publish/General_University_News_2/Esther_Takeuchi_Selected_to_Receive_2013_E_V_Murphree_Award.shtml
https://www.google.com/patents/EP1445813A3?cl=en&dq=lithium/silver+vanadium+oxide+battery&hl=en&sa=X&ei=bfE4Uv3yL9ew4AOc4YCwDA&ved=0CDcQ6AEwAA
Multimedia:
http://www.smartplanet.com/blog/pure-genius/battery-expert-and-woman-with-most-us-patents-on-her-next-innovation/3996
http://www.eng.buffalo.edu/academics/fac/hon/tak/