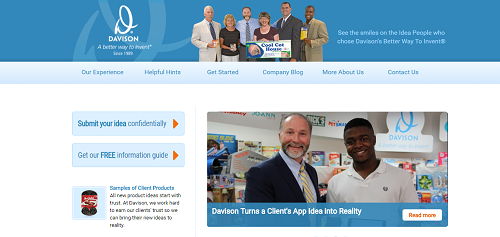 If you've been on Davison.com lately, you might have noticed a few changes.
Not only did we add a new Company Blog tab right on the homepage, but we also added something extra to keep you connected to our latest and greatest news.
Recently, we added a brand new feature slider on the homepage that connects you to our latest news stories, like our celebrity partnerships, big-name brands like Pepsi and Mountain Dew on Davison products and our mobile app development service!
In case you missed it, we evolved our development services by bringing the design and creation of apps to an exciting new level.
Now, idea people can safely submit not only their tangible invention ideas, but their mobile app ideas as well.
We've covered our app development in previous blogs; and, in those stories, we featured two of the apps that we helped to develop – The Daily German Verb app and the Coach's Whiteboard app.
Our mobile apps are currently being developed solely for distribution through Apple's App Store with future plans to hopefully include Android distribution.
In case you didn't catch it the first time, here's a quick recap of our app development services!
As you can see, a lot is h-APP-ening at Davison and on Davison.com. Browse a sample of our licensed products to see some exciting examples of our work!
Copyright Davison, 2016